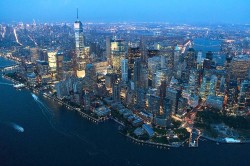 Tuesday - New York City has set an ambitious new standard for combating greenhouse gas emissions, approving a package of climate policies designed to slash energy use in big buildings.
12 Apr 19 - Big real estate firms are pouring resources into calculating climate risk and its likely effect on property portfolios — everything from increasingly extreme weather to sea-level rise.
10 Apr 19 - Patti Poppe used to drive around with an "I Love Coal" bumper sticker, but now the CEO of Michigan-based CMS Energy Corp. is eager to talk about phasing out the fossil fuel.

5 Apr 19 - New York is set to become the first US city to charge drivers a fee for releasing planet-warming pollution from their cars.

2 Apr 19 - A judge's ruling restores former president Barack Obama's orders putting large parts of the Arctic off-limits to offshore drilling and throws Donald Trump's oil and gas lease sale plans into question.

1 Apr 19 - Hundreds of US corporate companies have joined together for a renewable-energy alliance.

28 Mar 19 - The US Senate has defeated a motion to take up the Green New Deal, the non-binding proposal spearheaded by progressive Democratic lawmakers.
---
28 Mar 19 - Around three-quarters of US coal production is now more expensive than solar and wind energy in providing electricity to American households, according to a new study.
22 Mar 19 - In the first significant check on the Trump administration's "energy-first" agenda, a US judge has temporarily halted hundreds of drilling projects for failing to take climate change into account.
22 Mar 19 - About 70 per cent of fresh produce sold in the US has pesticide residues on it even after it is washed, according to a health advocacy group.
20 Mar 19 - For the first time in years, a broad spectrum of US climate advocates is going on the offensive.
19 Mar 19 - New York City Mayor Bill de Blasio wants to protect Manhattan from climate change by expanding the island's southern shore to keep rising seas at bay.
13 Mar 19 - The Trump administration's latest budget proposal would radically reduce new spending on federal programs for advancing clean energy.
11 Mar 19 - Across the US midwest, the rise of factory farming is destroying rural communities. And the massive corporations behind this devastation are now eyeing a post-Brexit UK market.
7 Mar 19 - The Trump administration's efforts to undo rules aimed at reducing greenhouse gases would lead to a rise in annual emissions and to thousands more American deaths, says a new report.
7 Mar 19 - Former US coal industry lobbyist Andrew Wheeler is taking over the reigns as the new administrator of the Environmental Protection Agency.
5 Mar 19 - For the first time, US lawmakers face competing approaches to reviving climate action. And despite hostility from the White House, each approach has significant support and the potential to shape the...
4 Mar 19 - What a splendid irony it would be if the enduring legacy of Donald Trump's presidency was the Green New Deal – a radical, government-directed plan to transition the US to a socially just society with...
1 Mar 19 - Rising seas have eroded coastal property values from Maine to Mississippi by billions of dollars as buyers pay less for homes in neighborhoods where high-tide flooding is creeping in.
---