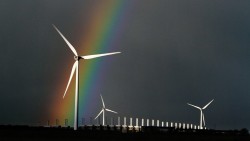 Friday - The Netherlands is under pressure to slash emissions in sectors such as power generation and agriculture after a ruling by a top court made the government a reluctant test case for tougher global climate policies.

18 Feb 20 - The European Commission will aim to "absolutely decouple" economic growth from natural resource use in a draft circular economy action plan due to be unveiled in March.

18 Feb 20 - More than 20 of Europe's airports could be under water by the end of the century if current climate trends continue.

12 Feb 20 - A series of detailed maps have laid bare the scale of possible forest fires, floods, droughts and deluges that Europe could face by the end of the century without urgent action to adapt to and confront global heating.

10 Feb 20 - Europe is falling well behind in the race to install enough solar power to keep the rise in global temperatures below dangerous levels, and to reach its own renewable energy targets.

5 Feb 20 - European and US scientists have a root-and-branch answer to the challenge of tomorrow's cities: switch to wood construct timber buildings and reduce the risk of even more devastating global temperature rise.

30 Jan 20 - An Oslo appeals court has endorsed Norway's plan for new oil and gas exploration in the Arctic.
---
12 Dec 19 - Nearly every major aspect of the European economy is to be re-evaluated in light of the imperatives of the climate and ecological emergency, according to sweeping new plans set out by the European...
11 Dec 19 - The case for ambitious and transformative environmental policy is being made with increasing fervour and a series of "Green New Deals" have been proposed.
10 Dec 19 - Denmark's parliament has adopted a new climate law, committing to reach 70 per cent below its 1990 emissions in the next 11 years.
6 Dec 19 - Iceland Prime Minister Katrin Jakobsdottir has urged governments to adopt green and family-friendly priorities, instead of just focusing on economic growth figures.
29 Nov 19 - The European parliament has declared a global "climate and environmental emergency" as it urged all EU countries to commit to net zero greenhouse gas emissions by 2050.
28 Nov 19 - European Commission Presiden Ursula von der Leyen has cited climate policy as the most pressing issue facing her new executive team.
27 Nov 19 - The European parliament is split over whether to declare a global climate emergency before next week's crucial UN summit.
22 Nov 19 - The European Union last year embarked on a mission to decarbonise the building sector, currently responsible for 40% of the bloc's energy use.
19 Nov 19 - The German lower house has approved a major climate protection package which aims to ensure the country will meet its 2030 target for reducing greenhouse gas emissions.
18 Nov 19 - The European Investment Bank will stop funding fossil-fuel projects at the end of 2021, a landmark decision that potentially deals a blow to billions of dollars of gas projects in the pipeline.
14 Nov 19 - Never mind how many electric cars are sold there, Norway has to change tack and end prospecting for new oil reserves.
30 Oct 19 - The Russian government has gutted its proposed law to regulate emissions, apparently caving in to the country's powerful fossil fuel industry.
---