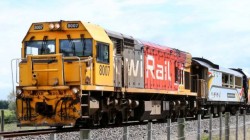 Friday - One of the men behind the privatisation of New Zealand's rail network says the rules need to be changed so that rail can help to cut the country's greenhouse gas emissions.

19 Mar 18 - One out of every five new cars sold in Norway is electric, and more than 50 per cent of new cars sold in 2017 were electric or plug-in hybrids.

15 Mar 18 - The Renault-Nissan-Mitsubishi Alliance is aiming to take the lead in new solid-state battery technology.
7 Mar 18 - Amid fears about pollution, penalties and bans, UK buyers are abandoning diesel cars in droves.

28 Feb 18 - Car maker Fiat-Chrysler has signalled that it is getting ready to stop making diesel cars.
28 Feb 18 - Researchers have claimed a breakthrough in energy storage technology that could enable electric cars to be driven as far as petrol and diesel vehicles, and recharge in minutes rather than hours.

26 Feb 18 - Porsche has announced that it is putting an end to diesel engines in its cars.
---
23 Feb 18 - There's no word yet on whether KiwiRail's plans to replace electric engines with diesel will go ahead.
22 Feb 18 - Mazda is saying what everyone knows: the internal combustion engine is going to power the vast majority of cars for the next 50 years.
21 Feb 18 - From rising temperatures preventing take-off to rising seas flooding runways, aviation needs to adapt to changes already grounding flights around the world.
16 Feb 18 - The Southern Hemisphere's biggest deployment of pure-battery electric cars has been launched in Christchurch.
14 Feb 18 - The surplus electricity from solar and wind power gives hydrogen the chance to replace oil and gas.
14 Feb 18 - Delivering parcels by drone could help to cut carbon emissions.
5 Feb 18 - A California company developing a multi-engined electric air taxi has just received $100 million in venture funding from several major outfits, including Toyota.
2 Feb 18 - A Japanese company is moving ahead with plans to equip ocean-going cargo ships with rigid sails embedded with solar panels.
2 Feb 18 - Irish airline Ryanair has vowed to eliminate use of nonrecyclable plastics on aircraft and at head offices and bases.
1 Feb 18 - A Qantas aircraft powered partly by mustard seeds has made the first biofuel flight between Australia and the United States.
26 Jan 18 - The world's first fully electric, emission-free and potentially crewless container barges are to operate from European ports this northern summer.
23 Jan 18 - Twenty new electric vehicle projects, including a 58-tonne truck to carry dairy products and developing a qualification for EV technicians, are to receive government funding.
---