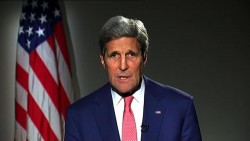 Tuesday - Europe faces deeper political turmoil and the possibility of mass migration from Africa unless the world urgently addresses the threat of climate change, says former US secretary of state John Kerry.

Tuesday - In a Democratic clash on Capitol Hill, progressives are pushing an ambitious plan to wean the U.S off fossil fuels. Meet the "Green New Deal."

Tuesday - Waste fish parts will be used to power ships in a new initiative to use green energy for polluting cruise liners.

Tuesday - Damage from climate change to key US military shipyards would undermine the Pentagon's ability to respond to military crises and counter China's ambitions.

Monday - China, Russia and Canada's current climate policies would drive the world above a catastrophic 5deg of warming by the end of the century, according to a study that ranks the climate goals of different countries.

Monday - The Antarctic Circumpolar Current is the strongest ocean current on our planet and is vital for Earth's health. It is also changing as the climate warms.

Monday - The Trump administration plans to set up a side-event promoting fossil fuels at the UN climate talks in Katowice, Poland, next month.
---
Monday - Brazil's president-elect Jair Bolsonaro has named an anti-globalist diplomat to lead on foreign affairs and his country's relationship to the Paris Agreement.
Monday - Why do wildfires seem to be escalating? Despite president Donald Trump's tweet that the California fires were caused by "gross mismanagement" of forests, the answer is more complex, nuanced, and...
Monday - The largest US West Coast commercial fishing association is suing 30 fossil fuel companies it says are accountable for harming shellfish and livelihoods as the ocean warms.
Friday - People in the UK who waste heat by failing to ensure their homes, offices and factories are leak-proof will soon have the prospect of a spy in the sky to persuade them to mend their ways.
Friday - France intends to stop importing soy, palm oil, beef, wood and other products linked to deforestation and unsustainable agriculture by 2030, shooting ahead of the rest of the EU.
Friday - Compared with so much ineffective climate activism, the present wave of anti-fossil fuel politics has an important advantage: it resonates better with ordinary people.
Friday - The Spanish car lobby has hit back at the draft of the country's first climate law published this week, which proposes to ban the sale and registration of lighter diesel and petrol vehicles from 2040.
Friday - A massive crater under Greenland's ice points to a previously unknown climate-altering asteroid impact in the time of humans.
Thursday - Deforestation in Brazil's Amazon jumped almost 50 per cent during the three-month electoral season that brought Jair Bolsonaro to power, according to preliminary official figures.
Thursday - The Trump administration plans to cut air pollution from heavy-duty trucks, marking one of its first moves to regulate US industry rather than roll back environmental standards.
Thursday - The spectacular centrepiece of Venice, St Mark's Square, now floods more than 60 times a year, up from four times a year in 1900.
Thursday - Cadbury chocolate maker Mondelçz International has destroyed more than 25,000 hectares of orangutan habitat in Indonesia, says a new report from Greenpeace.
---