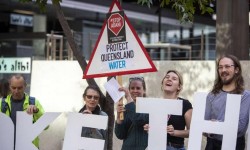 Thursday - The global engineering and consultancy firm Aurecon has severed a longstanding business relationship with the Adani Group, amid ongoing efforts by anti-coal activists to target firms working for the Indian conglomerate's Australian mining arm.

Thursday - Clean energy jobs in California now outnumber jobs in the fossil fuel industry five to one, a new study has found.

Thursday - When the news is bad, punish the messenger, as in today's United States it's increasingly the case that politics tops science.

Thursday - Growing awareness of ocean plastic has prompted local efforts to keep beaches clean. But the amount of discards collected poses the question of what to do with it.

Thursday - G7 leaders this weekend will join fashion retailers and brands to sigfn a global pact to fight the climate crisis and protect biodiversity and the oceans.

Wednesday - The only period in which the world's climate has changed everywhere and at the same time is right now.

Wednesday - low-lying Singapore could spend $US72 billion or more over the next 50 to 100 years to adapt to climate change and rising sea levels, according to its prime minister.
---
Wednesday - Power stations in Victoria's Latrobe Valley and New South Wales's Lake Macquarie region have been named on a list of the world's biggest hotspots for toxic air pollution.
Wednesday - Canadian environment charities have been warned that discussing the dangers of climate change during the upcoming federal campaign could get them into trouble.
Wednesday - An all-electric ferry, purported to be the world's largest, has completed its first voyage between two Danish islands, as the shipping sector gears up for strict new emission laws.
Tuesday - A warming planet will alter ocean waves along more than 50 per cent of the world's coastlines, according to research published today.
Tuesday - Australia's role as a leader in the global fossil fuel trade is underscored by a report that finds it is the world's third-biggest exporter and fifth-biggest miner of fossil-related emissions.
Tuesday - Emerging economies have called on rich countries to meet their pre-2020 climate targets and ramp up climate finance.
Tuesday - By GILLIAN ANDERSON | A new ocean treaty hangs in the balance. Our leaders must act boldly, and grasp the opportunity to protect these wild spaces.
Tuesday - Scientists have completed one of the first studies of the impact of drought and warmer temperatures on living organisms below the ground.
Monday - An army of tiny magnetic coils could dissolve microplastics from water, and possibly help us clean up waterways and oceans.
Monday - US Environmental groups have appealed a court decision in their attempt to end the Environmental Protection Agency's policy of excluding certain scientists from serving on its advisory boards.
Monday - Margins for European high sulphur fuel oil, used to power ships, sank last week as preparations for a global shift to cleaner maritime fuel next year start to weigh on prices.
Monday - Arresting the soaring increase in flying will be the first step towards a sustainable system of international travel – but how can it be done?
---