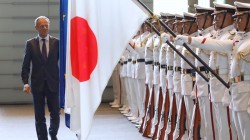 Thursday - Europe's massive free-trade deal with Japan is the first the EU has struck with a specific provision on the Paris climate agreement.

Thursday - The rise in sea levels will put vital internet infrastructure at risk, new research suggests.

Thursday - Indigenous peoples are crucial for global conservation and for living with climate change – after all, a quarter of all land is in their hands.

Thursday - More than a billion people are at risk from a lack of air conditioning and refrigeration to keep them cool and to preserve food and medicines as global warming brings more high temperatures, a new study shows.

Wednesday - Climate change will become a "main pillar" of the relationship between the European Union and China, leaders said yesterday.

Wednesday - What if countries responded to US President Donald Trump's tariffs by taxing imports based on their carbon footprint instead?

Wednesday - As immigration issues along the US southern border continue to roil the country, one driving force of migration from troubled Central American countries has received relatively little notice: climate change.
---
Tuesday - The world community has taken action against climate change but it must "triple its efforts" to reduce emissions, says the man who presided over the Paris Agreement.
Monday - Record high temperatures have been set across much of the world as an unusually prolonged and broad heatwave intensifies concerns about climate change.
Monday - Nearly 900 institutions have committed to some level of divestment from oil, gas and coal. Others believe they can push climate action more effectively as investors.
Monday - Nearly three years after the Paris Agreement was reached, more than a tenth of global emissions are generated in countries that have not formally adopted the deal.
12 Jul 18 - After the US surrendered its influence, the EU-China summit in Beijing next week will be yet another moment for both economies to show leadership on climate action.
11 Jul 18 - Aboard the strange-looking catamaran Energy Observer, two Frenchmen are sailing around the planet without using any fossil fuel.
6 Jul 18 - Researchers say temperature rises as a result of global warming could eventually be double what has been projected and sea levels could rise by six metres or more.
6 Jul 18 - The latest meeting of the Green Climate Fund ended in chaos as members failed to agree on approving any finance for the developing world and the executive director quit.
6 Jul 18 - Cleantech could help to tackle the biggest environmental issues today, yet private investors remain hesitant to take the leap.
5 Jul 18 - From heart disease to diabetes, noise is having dire effects on people's health. So who is most at risk, what can be done about it – and can you protect yourself?
4 Jul 18 - The US has cut its contribution to the Global Environment Facility, raising concerns about access to finance for environmental protection in the developing world.
3 Jul 18 - Earth's human scar, the mark humankind has left upon the planet, is growing apace: threequarters of the ice-free land areas of the globe have been in some way degraded, according to a new global...
---