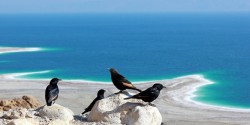 Today 11:00am - Far below the Dead Sea, between Israel, Jordan and Palestinian territory, researchers have found evidence of a drought that has no precedent in human experience.

Thursday - Climate scientists puzzled by the traffic of carbon between soil and air might have to think more deeply about the role played by soil microbes − the planet's smallest inhabitants.

Wednesday - The development and evolution of the chemical industry is directly responsible for many of the technological advancements that have emerged since the late 19th century.

Tuesday - US scientists are set to send aerosol injections 20km up into the earth's stratosphere in the world's biggest solar geoengineering programme to date, to study the potential of a future tech-fix for global warming.

Monday - The future for China is likely to become increasingly unclear – and lurking behind the obscured outlook in the nation's capital is the spectre of climate change.

Monday - Scientists in the US have proved it yet again that, in a rapidly warming world, mammals face a diminished future.

23 Mar 17 - Humans are in the process of changing the planet in a way that hasn't happened in 2.6 million years.
---
23 Mar 17 - Scientists in California who turned a patch of natural grassland into a laboratory have established a subtle link between flowering times and the mix of species in an ecosystem – indicating that...
21 Mar 17 - Scientists' efforts to develop new crops able to resist climate change, droughts and other shocks have been boosted by the United States joining an international seeds treaty.
20 Mar 17 - Scientists have calculated that at least 30 per cent and perhaps one half of the decline in Arctic summer sea ice could be attributed to natural causes – changes of ocean and atmospheric circulation...
16 Mar 17 - Scientists have worked out how to combat climate change and improve human health, one mouthful at a time.
14 Mar 17 - A small yellow robot submarine, called Boaty McBoatface after a competition to name a new polar research ship backfired, is being sent on its first Antarctic mission.
14 Mar 17 - The biggest and worst droughts might not stay fixed in one place but can travel thousands of kilometres from their origin, according to a new study.
10 Mar 17 - Atmospheric carbon dioxide in the Southern Hemisphere continues to rise, with testing at Wellington's Baring Head now consistently recording around 401 parts per million.
10 Mar 17 - Researchers have reminded the world's governments that forests will play a vital role in mitigating the effects of climate change – provided policies are robustly pursued and reported with...
7 Mar 17 - Summer gave New Zealand a taste of life under climate change, according to latest climate records.
7 Mar 17 - The effects of climate change on fish are being studied in a world-first trial at Niwa's Bream Bay marine science centre.
7 Mar 17 - The country's first hybrid energy-powered water monitoring buoy has been launched by Meridian Energy and the Cawthron Institute.
6 Mar 17 - Climate scientists, struggling with the enduring problem of the carbon budget, may have to think again as a result of new research findings.
---