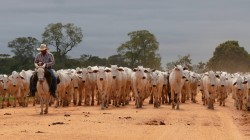 Thursday - Deforestation in Brazil's Amazon jumped almost 50 per cent during the three-month electoral season that brought Jair Bolsonaro to power, according to preliminary official figures.

Thursday - The Trump administration plans to cut air pollution from heavy-duty trucks, marking one of its first moves to regulate US industry rather than roll back environmental standards.

Thursday - The spectacular centrepiece of Venice, St Mark's Square, now floods more than 60 times a year, up from four times a year in 1900.

Thursday - Cadbury chocolate maker Mondelçz International has destroyed more than 25,000 hectares of orangutan habitat in Indonesia, says a new report from Greenpeace.

Thursday - A new study of beetles could explain their global decline – and also be a warning to humankind.

Wednesday - The world has so many existing fossil fuel projects that it cannot afford to build any more polluting infrastructure without busting international climate change goals, the global energy watchdog has warned.

Wednesday - The UK, France and Germany have called on the European Commission to launch tough new action to halt deforestation by the end of the year.
---
Wednesday - As the price of renewable energy drops and storage technologies mature, hydrogen fuel is drawing fresh attention.
Wednesday - In recent years, Spain has been a graveyard for climate-friendly policies. But there are signs the dead may be twitching back to life.
Wednesday - It's been invaded and bombed, had a third of its territory taken over by terrorist groups, hundreds of thousands have been killed and much of its infrastructure has been destroyed. Now, Iraq has...
Wednesday - Decades after plastic became part of the fabric of our lives, a worldwide revolt against its use is under way.
Tuesday - Top oil and gas companies jointly spent around 1 per cent of their 2018 budgets on clean energy, a new study shows.
Tuesday - They've taken on polluters and built climate solutions. Now they're bringing activism to Congress in one of the most diverse freshmen classes in US House history.
Tuesday - In 2018, humanity will pump more carbon dioxide into the atmosphere than ever, and yet last year was a record year for renewable energy. What gives?
Tuesday - A 30-year analysis of Amazonian trees finds the world's largest rainforest is already adapting to climate change, but probably not fast enough.
Tuesday - Could rain-sodden Britain become the hot new wine producer?
Tuesday - Since his first day on the job, when he surrounded himself with a police escort and rode through Washington on a horse named Tonto, US Interior Secretary Ryan Zinke has exhibited a flair for...
Monday - Large asset managers could play a pivotal role in safeguarding the Amazon forest, a new report shows, amid concerns Brazil's president-elect Jair Bolsonaro could strip the planet of its lungs.
Monday - China will be urged to crack down on illegal CFC-11 production under an international declaration set for adoption at a meeting in Ecuador this week.
---