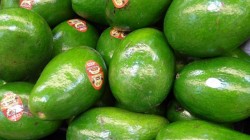 Friday - The trade in avocados, cherries and blueberries could suffer from a proposed short-term measure to cut carbon emissions from shipping, according to Chile and Peru.

Friday - Green bonds issuance needs to hit $1 trillion a year by 2020 to support international climate goals, says former UN climate chief Christiana Figueres.

Thursday - A difference of just half a degree of global warming, from 1.5deg to 2deg, would mean that an additional five million people worldwide will have the land where their homes are located permanently submerged underwater.
Thursday - Courts are a new front line of climate action with cases against governments and oil firms spiralling, and while victories have so far been rare the pressure for change is growing.

Thursday - The world's largest green bond fund has been launched with the intention of building a $2 billion purse.

Wednesday - Climate change will result in a massive movement of people inside countries and across borders, creating "hotspots" where tens of millions pour into already crowded slums, according to the World Bank.
15 Mar 18 - The world's greatest forests could lose more than half of their plant species by the end of the century unless nations ramp up efforts to tackle climate change, says a new report.
---
14 Mar 18 - The air you breathe, the water you drink and the food you eat all rely on biodiversity, but right now it is in crisis – because of us.
13 Mar 18 - The warnings about an unfolding climate catastrophe are getting more desperate, yet the march to destruction continues.
12 Mar 18 - The increasing global demand for rare earth metals is bringing new risks.
9 Mar 18 - Central banks are emerging as a bigger threat to the green-energy revolution than Donald Trump.
9 Mar 18 - Women are more likely than men to be affected by climate change, new studies show.
8 Mar 18 - Fiji's Nazhat Shameem Khan has been removed from her role in the UN climate talks presidency after what observers say was a protracted power struggle with Australian and European advisers.
8 Mar 18 - The world needs to cut the production and consumption of meat in half by 2050 in order to meet the climate goals of the Paris Agreement, a new Greenpeace report says.
8 Mar 18 - Former New York Mayor Mike Bloomberg has landed a new job as UN special envoy for climate change.
7 Mar 18 - As the backlash against plastic waste grows, industry is replacing and redesigning single-use products, from recyclable bottles to biodegradable film.
7 Mar 18 - Millions of people probably feel confused, conflicted or downright overwhelmed by their eatging habits.
6 Mar 18 - Health savings from cutting greenhouse gas emissions outweigh the cost of implementing the Paris Agreement, scientists say.
6 Mar 18 - Fans of Lego can rest assured that when they come to use tree, leaf or bush pieces they will now more closely resemble the real thing.
---