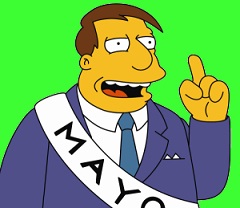 15 Oct 18 - The nation's mayors might on the front line for dealing with the impacts of climate change, but that doesn't mean they're going carbon-neutral in their choice of mayoral car.

15 Oct 18 - Incentives for consumers to buy hybrid and electric cars rather than diesel or petrol alternatives have been slashed by the UK government, adding thousands of pounds to the price of a new low-emission vehicle.

15 Oct 18 - Sometime this month, a million electric vehicles will have been sold in the United States. But does it matter?

4 Oct 18 - Mazda has laid out plans to revamp its product line-up, saying that all its vehicles will come with electric power by 2030.

4 Oct 18 - Nothing symbolises Italian urban chic quite like the Vespa. But in the city that gave birth to them, the diehards suddenly have a fight on their hands because of pollution.

3 Oct 18 - Uber has announced a $10 million investment over the next three years in sustainable mobility.

2 Oct 18 - Electric cars are poised to arrive en masse in European showrooms after years of hyped concept-car launches. The trick now is selling them at a profit.
---
1 Oct 18 - A Danish-flagged cargo ship has successfully passed through the Russian Arctic, in a trial voyage showing that melting sea ice could potentially open a new trade route from Europe to Asia.
20 Sep 18 - The European Commission's anti-competition team is looking into BMW, Daimler and the VW group for allegedly limiting the roll-out of technology meant to clean up car emissions.
20 Sep 18 - Three years after the Dieselgate scandal erupted, the number of highly polluting diesel vehicles on Europe's roads has risen to 43 million.
20 Sep 18 - Dozens of European countries are backing a plan to increase the use of hydrogen as an alternative to fossil fuels to cut the continent's carbon emissions.
20 Sep 18 - Germany has launched the world's first hydrogen train. It has a range of 960km on a single tank of hydrogen, similar to that of diesel trains.
18 Sep 18 - Google Street View cars will be outfitted with sensors that test air quality in cities and towns across the globe.
14 Sep 18 - As a typhoon tore through Japan last week, travellers at Kansai International Airport looked out on a terrifying void: Where the runway should have been, they saw only the sea.
6 Sep 18 - Mercedes-Benz is set to unveil its much-anticipated electric SUV this week, marking the start of a German onslaught against Tesla.
31 Aug 18 - Drivers in Europe have paid $NZ260 billion more on fuel than they would have if their vehicles had performed as well on-the-road as in official laboratory-based tests, says a new report.
30 Aug 18 - Europe now has more than a million electric cars after sales soared by over 40 per cent in the first half of the year, new figures reveal.
30 Aug 18 - Nissan has begun production for its first electric car designed specifically for China.
21 Aug 18 - Electric scooters are seen as a good choice by many eco-conscious consumers, but some cities see regulatory headaches.
---