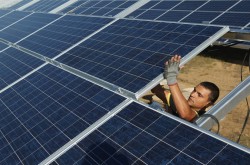 Friday - The world's major economies could boost their long-term economic growth by 2.8 per cent with policies that lower greenhouse gas emissions and boost resilience to climate change impacts.

Friday - Pope Francis gave visiting US President Donald Trump a copy of his seminal, 183-page encyclical letter - published in June 2015 - on the subject of climate change. If Trump reads it, what will he learn?

Friday - The European Food Safety Authority dismissed a study linking glyphosate to cancer following counsel with an EPA official allegedly linked to the maker Monsanto and who figures in more than 20 lawsuits.

Friday - Ocean warming and acidification are hurting the nutritional value - and the taste - of some seafood.
Friday - Sales of electric vehicles in California increased 91 per cent in the first quarter of this year, compared with the same period in 2016.

Thursday - The Government is putting $4 million into figuring out how New Zealand can cut its greenhouse gas emissions.

Thursday - The Trump administration's 2018 fiscal year budget has made good on its promise to target deep cuts to federal spending on programmes widely seen as critical to America's ability to adapt to a warming world and reduce its impact on the climate.
---
Thursday - A United States withdrawal from the Paris Agreement could be the best outcome for international climate action.
Thursday - Shareholders in Shell have rejected proposals for the oil giant to set public emission reduction targets at its annual general meeting in the Netherlands.
Thursday - As countries write the rules for airlines to offset their emissions growth, they must make sure there is no double-counting.
Thursday - It has been a great year for Australian farmers, with record production, exports and profits.
Thursday - The Polish government has been accused of pushing a primeval forest system to the point of no return with state-sanctioned logging in a Unesco world heritage site.
Thursday - Governments around the world are increasingly being challenged in court to do more to combat the threat of climate change.
Wednesday - China plans to expand its scientific research in Antarctica in coming years amid worries over the area's susceptibility to climate change, but has no immediate plans to mine or develop natural...
Wednesday - US firms have been found to be improving their own environmental performance by moving more-polluting activities overseas, where regulations are more lax.
Wednesday - In the next 25 years, more than half of all of Switzerland's small glaciers will disappear − and Canada could lose 70 per cent of the volume of its frozen rivers by 2100.
Wednesday - Battery-making gigafactories are about to arrive in Europe, challenging Tesla and opening the way for a quicker shift toward green power for both cars and utilities.
Wednesday - Swiss voters have said yes to the government's plan to provide billions of dollars in subsidies for renewables, in addition to banning nuclear power.
Wednesday - By MARK BOYLE | We're domesticating areas instead of protecting them. Living without technology I've found my place in the natural world – and this path could be our salvation.
---