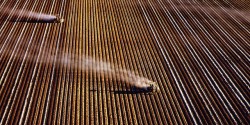 Monday - One of the biggest contributors to climate change is the agricultural food industry, but the political will to tackle the issue is lacking.

Monday - Donald Trump's intentions regarding US participation in the Paris climate deal remained unknown yesterday.

Monday - The human race is in so much trouble that it needs to colonise another planet within 100 years or face extinction, says physicist Stephen Hawking.

Monday - Abandoned coal shafts could be turned into giant storage devices to hold vast amounts of renewable power.

Monday - New York State is making a $5 billion bet that by making its power cleaner, it can become a magnet for the clean-energy jobs of the future.

Monday - The world's largest floating solar energy platform has has gone on line in China.

Friday - The world's major economies could boost their long-term economic growth by 2.8 per cent with policies that lower greenhouse gas emissions and boost resilience to climate change impacts.
---
Friday - Pope Francis gave visiting US President Donald Trump a copy of his seminal, 183-page encyclical letter - published in June 2015 - on the subject of climate change. If Trump reads it, what will he...
Friday - The European Food Safety Authority dismissed a study linking glyphosate to cancer following counsel with an EPA official allegedly linked to the maker Monsanto and who figures in more than 20...
Friday - Ocean warming and acidification are hurting the nutritional value - and the taste - of some seafood.
Friday - Sales of electric vehicles in California increased 91 per cent in the first quarter of this year, compared with the same period in 2016.
Thursday - The Government is putting $4 million into figuring out how New Zealand can cut its greenhouse gas emissions.
Thursday - The Trump administration's 2018 fiscal year budget has made good on its promise to target deep cuts to federal spending on programmes widely seen as critical to America's ability to adapt to a...
Thursday - A United States withdrawal from the Paris Agreement could be the best outcome for international climate action.
Thursday - Shareholders in Shell have rejected proposals for the oil giant to set public emission reduction targets at its annual general meeting in the Netherlands.
Thursday - As countries write the rules for airlines to offset their emissions growth, they must make sure there is no double-counting.
Thursday - It has been a great year for Australian farmers, with record production, exports and profits.
Thursday - The Polish government has been accused of pushing a primeval forest system to the point of no return with state-sanctioned logging in a Unesco world heritage site.
Thursday - Governments around the world are increasingly being challenged in court to do more to combat the threat of climate change.
---