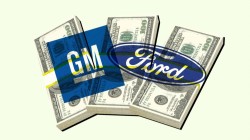 Friday - Exxon knew, Shell knew, coal knew — is it any surprise that top auto manufacturers knew, too?

Friday - Step by step, hydrogen has worked its way into the heart of the energy transition: as a storage medium for renewable energy; a fuel of the future for ships and planes; and a replacement for fossil fuels in homes, power and industry.

23 Oct 20 - The World Bank's private lending branch is indirectly backing one of the world's biggest new coal complexes, despite a new green policy.

20 Oct 20 - Electrification of more of the economy to reduce the country's greenhouse gas emissions will require a resolution to the risk posed by dry years to the hydro-electricity system, says Climate Change Commission chair Dr Rod Carr.

19 Oct 20 - The world is dragging its feet on efforts to tackle the climate crisis by reducing its energy use, according to a global watchdog.
14 Oct 20 - For the first time, the International Energy Agency has set out what would need to happen this decade to reach net-zero emissions globally by 2050.

12 Oct 20 - Environment and former climate and energy minister David Parker says he is backing investigations into a pumped-hydro scheme because it has the potential to slash the country's greenhouse gas emissions.
---
9 Oct 20 - A project that could form part of the Government's pumped-hydro electricity scheme is the first to be considered by an expert panel set up under the Government's covid-19 fast-tracking consenting...
7 Oct 20 - Countries wishing to reduce carbon emissions should invest in renewables, abandoning any plans for nuclear power stations because they can no longer be considered a low-carbon option.
6 Oct 20 - Chinese manufacturers have reported making systems to create hydrogen with renewable energy for up to 80 per cent less than official Australian estimates from just two years ago.
1 Oct 20 - The Labour Government's plan to bring forward its 100 per cent renewable electricity generation target to 2030 is an example of siloed thinking and is likely to be self-defeating, Genesis Energy has...
29 Sep 20 - Labour is promising to spend more money on getting the country's workforce ready for the low-carbon economy.
29 Sep 20 - Sprawled across the arid expanse of southwestern Wyoming is one of the world's largest carbon capture plants, a hulking jumble of pipes, compressors and exhaust flues operated by ExxonMobil.
15 Sep 20 - BP has called time on the world's rising demand for fossil fuels after finding that demand for oil may have already reached its peak and faces an unprecedented decades-long decline.
15 Sep 20 - French energy company Engie is teaming up with aerospace firm the ArianeGroup to steal a march on its rivals in the hydrogen production business, by drawing on expertise gained through Europe's space...
11 Sep 20 - New Zealand's first covid-19 pandemic lockdown slashed the country's consumption of oil to the lowest level since 1998, taking emissions of greenhouse gases from fuels to their lowest point in more...
9 Sep 20 - Any gas discovery by Beach Energy off the North Otago coast next year could require a further two years' work to plan and prepare an appraisal drilling programme to determine how to develop it, the...
9 Sep 20 - Researchers have found a way to combine solar PV and water harvested from the air to produce low-cost green hydrogen, and are gearing up to put the zero-emissions fuel to the test in cars on Sydney...
7 Sep 20 - Halide perovskites could revolutionise the energy sector.
---