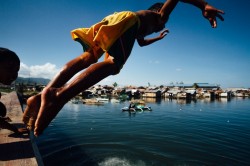 Friday - Global surface temperatures in 2019 are on track to be either the second or third warmest since records began in the mid-1800s, behind only 2016 and possibly 2017.

Friday - Warmer temperatures are widening the chasm separating richer and poorer countries.

Friday - Panama disease, an infection ravaging banana plants globally, is a warning that we are growing our food in an unsustainable way.

Wednesday - For years, experts in conservation and climate science have urgently pursued two parallel paths—one to interrupt a large-scale extinction event, the other to avert a runaway climate crisis.

Wednesday - The youth protests urging political action on climate change have won strong global backing from climatologists, as more than 6000 scientists express their support.

18 Apr 19 - Finance ministers from 23 countries have pledged to back climate action through their policy, tax and spending decisions.

17 Apr 19 - Search online for "climate change" and "tipping points" and you'll find some scary results.
---
17 Apr 19 - Microplastic is raining down on even remote mountaintops, a new study has revealed, with winds having the capacity to carry the pollution "anywhere and everywhere".
15 Apr 19 - Many of the planet's most scenic – and most valued – high-altitude landscapes are likely to look quite different within the next 80 years: the glaciers' global melt will have left just bare rock.
12 Apr 19 - Children born today will have to live their lives with drastically smaller carbon footprints than their grandparents if climate change is to be controlled.
11 Apr 19 - Donald Trump's choice to run the World Bank has moved swiftly to allay fears that his appointment will lead to a softening of the organisation's approach to climate change.
9 Apr 19 - Sikhs around the world are marking 550 years since the birth of founder Guru Nanak by planting a million trees as a "gift to the entire planet".
8 Apr 19 - A comprehensive overhaul of the world's financial system is necessary if governments are to honour climate commitments, says a new UN-led report.
8 Apr 19 - Norway's trillion-dollar oil fund, the world's largest sovereign wealth fund, is to plunge billions of dollars into wind and solar power projects.
5 Apr 19 - More than 40 governments have now adopted some sort of price on carbon, either through direct taxes on fossil fuels or through cap-and-trade programmes.
3 Apr 19 - An analysis of global soya-bean production forecasts massive deforestation in Brazil — and stakeholders must act fast to prevent it.
1 Apr 19 - Nearly 1.5m students walked out of school on March 15 to protest about the failure of the governments to tackle climate change. The job now is to find ways to mobilise their passion in the long-term.
1 Apr 19 - Being rich, especially ultra-rich, means being directly responsible for the majority of the world's carbon emissions.
29 Mar 19 - Despite climate change, water scarcity and the many ills affecting the planet, this generation is living on an increasingly greener Earth.
---