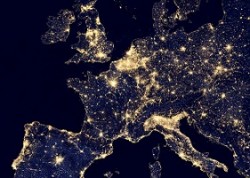 Friday - Nights are getting alarmingly brighter – bad news for all sorts of creatures, humans included – as light pollution encroaches on darkness almost everywhere.
Wednesday - Economist NICHOLAS STERN spoke in Oxford this month. The Conversation asked him about recent developments in the transition of the world toward an economy adapted to climate change.

Wednesday - What would happen if we treated climate change as a health problem rather than an environmental one?
Wednesday - Although abundant in captivity, the axolotl has nearly disappeared from its natural habitat - and that is a problem.

Tuesday - European scientists have just reached two chilling conclusions about today's Earth by studying past climate lessons.
Monday - One of the fathers of climate science is calling for a wave of lawsuits against governments and fossil fuel companies that are delaying action on what he describes as the growing, mortal threat of global warming.
16 Nov 17 - A scheme unveiled at the Bonn climate summit aims to help to protect 400 million poor people from extreme weather by 2020 - but not everyone is convinced.
---
15 Nov 17 - From the Everglades in the US to the Great Barrier Reef in Australia, climate change is destroying the many of the greatest wonders of the natural world.
14 Nov 17 - The burning of fossil fuels is set to hit a record high in 2017, climate scientists have warned, following three years of flat growth that raised hopes a peak in global emissions had been reached.
14 Nov 17 - The year has a bit to run yet, but we can already be sure that 2017 will be among the hottest years on record.
14 Nov 17 - With political agreement on climate change making slow progress and direct action becoming more dangerous, we must find alternatives.
14 Nov 17 - Many of the world's poorest people are being poisoned by their basic foods – and global warming helps toxins to multiply.
13 Nov 17 - Climate scientists now know that geo-engineering – in principle at least – would halt global warming and keep the world at the temperatures it will reach by 2020.
13 Nov 17 - Since 2008, about 26 million people have been displaced each year due to natural disasters, says a troubling Oxfam report.
10 Nov 17 - With the climate tipping point just years away, the tide is turning, thanks to innovations ranging from cheap renewables to lab-grown meat and electric aircraft.
8 Nov 17 - India is on course to surpass China as the world's largest emitter of anthropogenic sulphur dioxide.
6 Nov 17 - By PATTRICK SMELLIE | As international delegations descend on Bonn for the November 6-17 annual global climate change summit, spare a thought for the other country that calls itself China but,...
3 Nov 17 - Tens of millions of people will be forced from their homes by climate change in the next decade, creating the biggest refugee crisis the world has ever seen, according to a new report.
3 Nov 17 - Global investment could hold the key to fighting climate change, with $1 trillion already invested in solutions such as renewables and energy efficiency, says International Finance Corporation
---