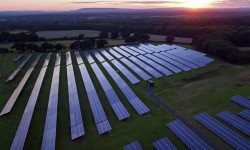 Wednesday - Almost three quarters of new electricity generation capacity built in 2019 uses renewable energy, representing an all-time record.

Monday - Todd Corporation, the country's largest privately owned energy company, has won the country's only new licence to explore for oil and gas.

3 Apr 20 - The amount of energy generated by tides and waves in the past decade has increased 10-fold. Now governments around the world are planning to scale up these ventures to tap into the oceans' vast store of blue energy.

2 Apr 20 - Renewable hydrogen has the potential to slash the global greenhouse gas emissions of fossil fuel power generation by more than one-third, but it's not the answer for low-carbon automotive transport, says a new report.
30 Mar 20 - Offshore windfarms could stack up financially in New Zealand from the middle of the century, experts say.

23 Mar 20 - A new solar farm in Otaki will power the town's wastewater plant and power the local high school, with profits being used for more community energy projects.
13 Mar 20 - New Zealand's greenhouse gas emissions from electricity generation and burning fossil fuels rose at the end of last year.
---
6 Mar 20 - The Government is putting nearly $20 million into the Ballance-Hiringa hydrogen project in Taranaki.
4 Mar 20 - General Electric is in the sights of 65 environmental groups for promoting coal-fired power generation in 17 countries.
26 Feb 20 - Recent reports from scientists pursuing a new kind of nuclear fusion technology are encouraging, but we are still some distance away from the "holy grail of clean energy".
26 Feb 20 - Driving an electric-powered vehicle rather than one reliant on fossil fuels is a key way to tackle climate change and improve air quality − but it does leave the old batteries behind as a nasty...
26 Feb 20 - For years after northern Finland's largest printing plant blanketed its facility's eight roofs with solar panels, the curious beat a path to the extraordinary spectacle.
25 Feb 20 - New Zealand risks missing the chance to use biofuels to develop fuel independence and avoid buying costly international carbon credits, officials are being told.
19 Feb 20 - Z Energy is moving into the offsetting business – for free.
12 Feb 20 - Carbon dioxide emissions from energy production in the developed world has finally fallen to the level it was at in 1990, the Kyoto Protocol baseline year.
11 Feb 20 - Investment in emissions-cutting new technology like hydrogen could be jeopardised by uncertainty over the Emissions Trading Scheme, fertiliser manufacturer Ballance Agri-Nutrients says.
11 Feb 20 - Work on New Zealand's largest solar farm has been put on hold because of the coronavirus outbreak.
11 Feb 20 - Some of the most ambitious large-scale solar projects have been plagued by delay, ultimately making them a financial burden rather than a beacon on the renewable power horizon.
10 Feb 20 - For more than a century, oil industry spinmasters downplayed misdeeds, twisted facts, and cajoled the media into mimicking their talking points.
---