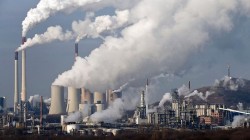 Monday - Australia's Climate Council is calling for the backlog of the nationís emissions data to be urgently released, with the Federal Government failing to provide the nationís quarterly data for more than six months.

22 Jun 17 - As Australia's Senate launches an inquiry into the national security ramifications of climate change, a new report has warned global warming will cause increasingly regular and severe humanitarian crises across the Asia-Pacific area.

20 Jun 17 - A history of failure has left Australia with virtually no genuinely independent advice on climate change.

13 Jun 17 - A multibillion-dollar bidding war for most of Rio Tintoís Australian coalmines has broken out between China-backed Yancoal and Glencore after the Swiss commodities company made an unexpected offer.

12 Jun 17 - Less than two weeks ago, Australia's chief scietist Alan Finkel told the Senate his landmark report would help the country meet the commitments it made in Paris to reduce its economy-wide emissions by 28 per cet below 2005 levels by 2030.

9 Jun 17 - Australian Opposition Leader Bill Shorten has written to Prime Minister Malcolm Turnbull offering bipartisan co-operation on climate change policy, after a "decade of toxic politics" in the area.

9 Jun 17 - Australiaís carbon emissions jumped at the start of 2017, the first time they have risen in the first few months of a year for more than a decade.
---
8 Jun 17 - Carbon dioxide emissions from Sydney Harbour have been measured for the first time.
7 Jun 17 - Indian billionaire Gautam Adani has given the green light to the Carmichael mine and rail project, but it will still hinge on its Australian arm, Adani Mining, gaining bank backing for the...
2 Jun 17 - Ending land clearing in Australia by 2030 would cut greenhouse gas emissions by about as much as completely shifting the entire electricity sector to renewable energy for a year.
1 Jun 17 - Renewable energy sources provided a record share of Australiaís power mix last year, due to record rainfall and the completion of new wind and solar projects.
1 Jun 17 - Businesses and policymakers have come together to stimulate Australiaís electric vehicle market, including the launch of a new national body, research grants, and private sector investment.
30 May 17 - The Australian government will support the Paris agreement on climate change regardless of whether or not US president Donald Trump pulls out.
25 May 17 - It has been a great year for Australian farmers, with record production, exports and profits.
22 May 17 - The Climate Council is warning of serious risks to the environment, public health and North Queensland tourism, if plans for Australiaís largest coal mine go ahead.
17 May 17 - How will extreme weather events change Australia with more warming in the future? Will they become more frequent? Will they become more severe?
16 May 17 - Many of Australiaís most carbon-intensive companies are either not participating in the federal governmentís flagship Emissions Reduction Fund, or are adopting a wait-and-see approach.
16 May 17 - Along the remote southern coastline of Western Australia, the locals have cottoned on to a new, surefire way to keep their beer cold.
12 May 17 - Australia could emulate California on climate change policy by bringing in improved energy and fuel efficiency standards to drive large-scale reductions in greenhouse gas emissions, a new report says.
---