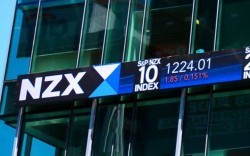 Friday - Ten years ago, New Zealand-based environmental markets registry TZ1 was appointed global registry for Scottish organisation Vivo Foundation.

Thursday - Ten years ago, Crest Energy was fighting objections to its plans to build New Zealand's first tidal power plant.

Wednesday - Ten years ago, the National Party was signing up to the Emissions Trading Scheme after voting against it the previous year.

Tuesday - Ten years ago, Australian Prime Minister Kevin Rudd abandoned plans for a review of the country's carbon trading plans.
18 Feb 19 - Ten years ago, the Canadians were in town, trying to convince New Zealand farmers that they could make money from sequestering carbon in soil.

15 Feb 19 - Ten years ago, the development of a genetically modified grass backed by the New Zealand Government was being hailed as a way to reduce greenhouse gas emissions from animals.

14 Feb 19 - New Zealand clean-tech pioneer Aquaflow (now called NZT Fuels) was confident of raising $20 million from a share float.
---
13 Feb 19 - Ten years ago, some of New Zealand's biggest emitters were seeking more time to make submissions on the National Government's Emissions Trading Scheme review because they were worried submissions...
12 Feb 19 - Ten years ago, a global shortage of people with skills in carbon accounting and verification risked exposing carbon markets to the sorts of scandals that had brought down companies like Enron, Tyco...
11 Feb 19 - Ten years ago, New Zealand was being touted as the site for the world's first industrial-scale biochar plant.
8 Feb 19 - Ten years ago, a British expert was advising New Zealand to incentivise the development of renewable-energy projects – especially wave energy.
7 Feb 19 - Ten years ago, New Zealand's first wood-to-bio-oil plant was about to open.
5 Feb 19 - Ten years ago, Wellington was arguing about whether the city's parks were appropriate places for wind turbines.
4 Feb 19 - Ten years ago, former World Bank chief economist Nicholas Stern was predicting that Britain's banks could do very nicely out of carbon trading.
1 Feb 19 - Ten years ago, officials were telling those pushing for carbon credits for carbon stored in soil that it would be impossible for New Zealand to sign up to article 3.4 of the Kyoto Agreement because...
31 Jan 19 - Ten years ago, owners of pre-1990 forests were doing their first deforestation returns.
30 Jan 19 - Ten years ago, NZX sold its voluntary carbon registry TZ1 for $66 million.
29 Jan 19 - Ten years ago, farmers were starting to order biogas plants to convert dairy shed effluent into energy and fertiliser.
25 Jan 19 - Farmers feared that a plant being used by Air New Zealand for biofuel would kill stock.
---