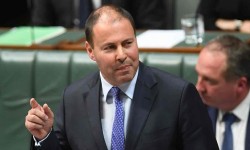 Today 11:00am - The Australian government will support the Paris agreement on climate change regardless of whether or not US president Donald Trump pulls out.

Thursday - It has been a great year for Australian farmers, with record production, exports and profits.

22 May 17 - The Climate Council is warning of serious risks to the environment, public health and North Queensland tourism, if plans for Australia's largest coal mine go ahead.

17 May 17 - How will extreme weather events change Australia with more warming in the future? Will they become more frequent? Will they become more severe?

16 May 17 - Many of Australia's most carbon-intensive companies are either not participating in the federal government's flagship Emissions Reduction Fund, or are adopting a wait-and-see approach.

16 May 17 - Along the remote southern coastline of Western Australia, the locals have cottoned on to a new, surefire way to keep their beer cold.

12 May 17 - Australia could emulate California on climate change policy by bringing in improved energy and fuel efficiency standards to drive large-scale reductions in greenhouse gas emissions, a new report says.
---
12 May 17 - The Australian government has axed funding for the National Climate Change Adaptation Research Facility, an agency that provides information on how best to manage the risks of climate change and sea...
12 May 17 - Women have long played a silent role in agriculture in Australia – now a new generation of female farmers is stepping forward.
11 May 17 - The Adani Carmichael coalmine is not needed to support the economy, the Westpac chief executive has said in defence of his bank's decision not to finance the mine.
11 May 17 - Sydney City is planting $8 million worth of trees to try to keep the city cool.
11 May 17 - Our daily brew is creating an environmental disaster, but social enterprises are coming up with new ideas for cups, pods and coffee grinds.
4 May 17 - The Australian government's strident criticism of Westpac for not financing the Adani Carmichael coal mine is out of step with the economics.
4 May 17 - Solar photovoltaics could provide 30 per cent of Australia's electricity needs by 2030.
1 May 17 - Australia's big four banks have ruled out funding or withdrawn from Adani's Queensland coal project, after Westpac said it would not back opening up new coalmining regions.
1 May 17 - Australia's households and small businesses will play a critical role in the switch to 100 per cent renewable energy.
13 Apr 17 - Prime Minister Malcolm Turnbull has assured the Indian billionaire hoping to build Australia's largest coal mine in Queensland that native title issues will not stop the $16 billion project.
13 Apr 17 - Queensland's economy and tourism sector could suffer a billion-dollar hit, if extreme coral bleaching on the Great Barrier Reef continues, says a new report.
11 Apr 17 - Heatwaves could be deadly for many Australian apartment dwellers if the grid fails, so architects are coming up with ways to manage temperatures passively.
---