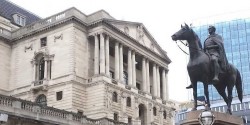 13 Mar 20 - Britain's first stress-test of the response of banks to climate change will help the Bank of England to determine if polluting assets should face "penalty" capital charges.

6 Mar 20 - British Gas has teamed up with Volkswagen to accelerate the rollout of its electric vehicles across UK roads by helping drivers to charge up at home at a lower price.

5 Mar 20 - The UK government is set to introduce E10 fuel containing 10 per cent ethanol as a new form of "cleaner" petrol aimed at cutting carbon dioxide emissions.

2 Mar 20 - Isolation and bad weather are compounding the strain from what UK farmers call the "anti-meat agenda".

21 Feb 20 - All UK airports must close by 2050 for the country to reach its target of net zero climate emissions by then, scientists say.

7 Feb 20 - Boris Johnson has promised "urgent action" on the climate crisis, taking personal leadership of this year's UN climate talks after a blistering attack by the sacked former minister who was to lead them.

31 Jan 20 - The Guardian will no longer accept advertising from oil and gas companies, becoming the first major global news organisation to institute an outright ban on taking money from companies that extract fossil fuels.
---
13 Nov 19 - A major airline has launched a review into a money-saving practice which increases its greenhouse gas emissions.
17 Oct 19 - Extinction Rebellion is eyeing a legal challenge after police placed a London-wide ban on the group's ongoing climate protest.
10 Oct 19 - Giant greenhouses will be used to grow up to 20 tonnes of tomatoes a day using the heat from water treatment facilities in the UK.
8 Oct 19 - Twenty of the UK's leading universities have struck a £50m deal to buy renewable energy directly from British windfarms for the first time.
4 Oct 19 - Developments that tackle climate change could avoid having to get planning permission, under proposals being considered by the Scottish government.
4 Oct 19 - The Royal Shakespeare Company is to end its sponsorship deal with BP amid growing opposition to fossil fuel sponsorship of cultural institutions.
3 Oct 19 - British police will deploy specially trained climate protest officers to London this weekend to help to deal with two weeks of protests planned by Extinction Rebellion.
2 Oct 19 - The UK was once the world's largest coal consumer, but the highly polluting fossil fuel has been pushed out by renewable energy and natural gas.
24 Sep 19 - Up to £1bn of UK aid funding will be spent on helping developing countries fight climate change.
20 Sep 19 - The voting age should be lowered to 16 because today's young people are the ones that face a "toxic inheritance" of environmental crises, a leading think tank has said.
13 Sep 19 - Farming can become climate neutral by 2040 without cutting beef production or converting substantial areas of farmland into forest, according to UK farmers.
28 Aug 19 - A coalition of climate campaigners and business groups have called for a ban on all petrol and diesel vehicles in Scottish cities as part of a multibillion-pound strategy to cut carbon emissions.
---