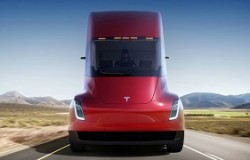 Monday - Elon Musk has unveiled Tesla's first electric semi-truck at an event in Los Angeles that also included the surprise reveal of a new Tesla sports car.

7 Nov 17 - Staying home is going to be the new normal if we're going to "bend the curve"on carbon emissions.

6 Nov 17 - WASHING DC has become the latest testing ground for what happens when technology and good intentions meet the real world.

6 Nov 17 - CHINA'S LARGEST ride-sharing company is to build its own electric-vehicle charging network.

31 Oct 17 - The electric bus would have let Londoners enjoy clean air early in the 20th century, saving but for the dishonesty and double-dealing which promoted the internal combustion engine instead.

30 Oct 17 - Shipping lobbyists at UN talks were "prostitutes employed by our racket to try to put one over on the public', says a marine industry veteran.

24 Oct 17 - Toyota, Mazda, and Denso will jointly establish a new company to develop zero-emission electric cars.
---
16 Oct 17 - A new plan to accelerate production of biofuels for passenger planes has drawn stinging criticism from environmentalists who argue that most of the world's rainforests might have to be cleared to...
10 Oct 17 - New Zealanders are buying bigger cars, damaging the country's chances of cutting greenhouse gas emissions, say Toyota New Zealand chief Alistair Davis.
10 Oct 17 - Vehicle manufacturers, the oil industry and governments are starting to wake up to the disruption that electric cars could bring about.
6 Oct 17 - Ford plans to slash $14 billion in costs over the next five years and shift capital investment away from sedans and internal combustion engines to develop more trucks and electric and hybrid cars.
3 Oct 17 - Climate change is forcing airport planners to rethink plane and runway design, since many of them are susceptible to excessive heat and at risk of sea level rise from coasts and rivers.
3 Oct 17 - Electric car owners in the UK will be paid for letting an energy company use their vehicle's battery.
29 Sep 17 - Z Energy is investing in the carbon-positive car-sharing company Mevo.
28 Sep 17 - EasyJet is backing plans to develop commercial passenger aircraft powered by electric batteries instead of conventional aero engines.
27 Sep 17 - British inventor Sir James Dyson has announced plans to build an electric car that will be "radically different" from current models and go on sale in 2020.
25 Sep 17 - It's been 10 years since Apple unleashed a surge of innovation that upended the mobile phone industry. Electric cars could be about to pull the same trick on Big Oil.
19 Sep 17 - Countries are nearing agreement on how to tackle shipping's carbon footprint, UN shipping chief Kitack Lim has told an industry conference, but resistance to a binding cap remains.
18 Sep 17 - When Angela Merkel addressed the Frankfurt motor show, it was not to a backdrop of revving engines but an exhibition of noiseless electric Golfs, South Korean hybrids and Japanese fuel-cell cars.
---