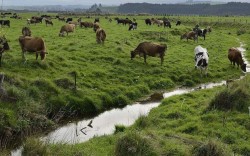 Wednesday - New Zealand, which sells itself as 100 per cent pure, has been given another bad report card for environmental performance.

Tuesday - Geoengineering to reverse climate change could wipe out more species than it saves, scientists are warning.

1 Dec 17 - Amazon, Microsoft and Google are among those in a race to hire artificial intelligence researchers to advance their efforts on autonomous vehicles, medical diagnostics and a range of other ventures.

29 Nov 17 - As many as one in six species faces extinction as a result of climate change, scientists are warning in a new report.

29 Nov 17 - Karaka leaves gathered by naturalists on board HM Bark Endeavour nearly 250 years ago are helping today's researchers to understand climate change.

29 Nov 17 - Melting glaciers might be making ocean water more acidic, an unexpected finding that's given scientists new cause for concern.

29 Nov 17 - NASA engineers have just unveiled a super-elastic car tyre constructed from nickel titanium that could see the end of punctures.
---
28 Nov 17 - The power consumed by internet giants' massive server farms and the mining of cryptocurrency are growing into a massive environmental headache.
28 Nov 17 - Plastics have a bad name, mainly for two reasons: most are made from petroleum and they end up as litter in the environment. But both of these are avoidable.
28 Nov 17 - Geo-engineering might be possible – but so far it doesn't look practical. Yet another study sees dangers in the technofix.
27 Nov 17 - Lizards can shed light on the development of ecological niches and how the changing climate may affect the natural world.
21 Nov 17 - New Zealand scientists are among more than 15,000 warning humans they have precious little time left to change their ways and avoid environmental and social disaster.
21 Nov 17 - A team of scientists is wondering if plants can protect us from climate change.
8 Nov 17 - New Zealand's winters are a month shorter than they were 80 years ago, NIWA scientists say.
7 Nov 17 - Evidence that this year will be one of the hottest on record is alarming, says one of New Zealand's leading climate experts.
7 Nov 17 - The World Meteorological Organisation says 2017 is among the three warmest years recorded, with human wellbeing facing mounting risks.
20 Oct 17 - The abundance of flying insects has plunged by three-quarters over the past 25 years, according to a new study that has shocked scientists.
13 Oct 17 - When you get into bed tonight, curling up on your memory foam mattress and fluffy pillows, you could be helping to reduce climate change.
12 Oct 17 - Large-scale projects to suck carbon dioxide out of the atmosphere will be needed by the 2030s to hold the line against climate change, scientists have said.
---