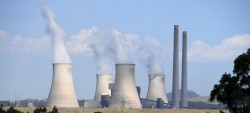 Friday - One of Australia's biggest industry superannuation funds plans to sell down its investments in thermal coal miners in a bid to protect its members from the financial impact of climate change.

Friday - The amount of carbon dioxide in the Earth's atmosphere is approaching a level not seen in 15m years and perhaps never previously experienced by a hominoid, according to the authors of a study.

Friday - Electric vehicles can help to keep the air clean in cities – as we've seen recently with the reduction of traffic through covid-19 lockdowns – but they face two obstacles.
Friday - The pandemic has revealed deep flaws in the world's food system and food leaders are calling for global coordination and climate resilient agriculture.

Friday - As many as 60 per cent of the world's fish species could struggle to breed and reproduce if climate change causes the Earth to warm by 5deg over the next 80 years, according to a new study.

Thursday - A major global update based on data from more than 36,000 weather stations around the world confirms that, as the planet continues to warm, extreme weather events such as heatwaves and heavy rainfall are now more frequent.

Thursday - More than 5600 companies in the fossil fuel industry have taken a minimum of $3b in coronavirus aid from the US federal government, according to a new analysis.
---
Thursday - Climate activists sense a turning point in their war against the Trump administration's effort to cement a fossil-fueled future for the United States, with three major defeats for high-profile oil...
Thursday - By ERIK MEIJAARD | Born in the Netherlands and brought up in Germany, it wasn't until I was 21 that I met my first coconut.
Thursday - Something magical appeared at night over London and other parts of Britain last month: ripples of electric blue clouds shimmered in the twilight sky after sunset.
Thursday - MEDIA RELEASE - COAL ACTION NETWORK AOTEAROA -The announced closure of Tiwai Point is welcome news for the clean energy future of New Zealand, and presents huge opportunities in areas such as...
Wednesday - Lithium is used in everything from medication to mobile phone batteries, but where does it come from?
Wednesday - Marseille has become the latest French municipality to elect a green mayor in a wave that has swept the country since local elections at the end of last month.
7 Jul 20 - Electric motor manufacturer Tesla became the world's most valuable carmaker last week, overtaking Toyota, despite never having made an annual profit.
7 Jul 20 - Electric vehicles have a clear environmental advantage over their gas-guzzling counterparts, but when it comes to longevity, the two are in a dead heat.
7 Jul 20 - Vast quantities of mud, which campaigners say might contain radioactive particles, are the latest problem to confront the UK's nuclear plans for two new reactors under construction in the West of...
7 Jul 20 - Australia has been ranked third behind South Korea and Latvia in a global report on the effectiveness of its response to the covid-19 pandemic -- but 37th in in the fight against climate change.
6 Jul 20 - Jules Verne sent his fictional submarine, the Nautilus, to the South Pole through a hidden ocean beneath a thick ice cap. Written 40 years before any explorer had reached the pole, his story was...
6 Jul 20 - At least $10 billion worth of gold, platinum and other precious metals are dumped every year in the growing mountain of electronic waste that is polluting the planet, according to a new UN report.
---