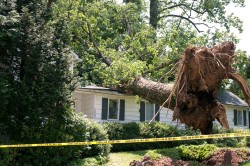 Friday - New Zealanders' expectation of insurance payouts for property affected by the impact of climate change is stopping them from taking action to prevent it, the Government has been told.

Thursday - Linking New Zealand's carbon market to the European Emissions Trading Scheme could be part of a new free-trade deal.

Thursday - Climate change adaptation must be part of the Climate Change Commission's agenda, says a new government report calling for strong action.

22 May 18 - The bureaucratic costs of shifting to a carbon-free economy are starting to be felt.
21 May 18 - New research with serious implications for New Zealand's primary production-based economy and the country's rare and endangered species says global warming needs to be kept below 1.5deg.

18 May 18 - New Zealand is softening its stance on climate refugees.

18 May 18 - Climate minister James Shaw's Green Investment Fund will be in business by the end of the year, he says.
---
17 May 18 - There are no changes to the Emissions Trading Scheme, but the promised Green Investment Fund is being backed with $100 million of taxpayer dollars in a budget being described as the greenest in...
17 May 18 - Another organisation is telling the Government to shift the tax burden from the production of private wealth to the consumption of public wealth, aka the environment.
15 May 18 - Whether it is food shortages, diseases like dengue fever or respiratory conditions caused by wind-blown Australian dust, climate change is a serious health threat for New Zealanders, the Government...
14 May 18 - Taxes should be aiming at keeping human activity within the planet's physical capacity – and that means carbon prices that deliver fast, deep and sustained emissions reductions, the Government's Tax...
9 May 18 - The Government's overhaul of the climate-damaging dairy industry is under way.
9 May 18 - Roughly half of the country thinks New Zealand has too many cows and nearly as many want a moratorium on new dairy conversions, a poll suggests.
8 May 18 - The tax system should protect the environment, the Tax Working Party has been told.
7 May 18 - It's Talanoa Dialogue day in Bonn – and New Zealand is suggesting the world take a look at Maori concepts of stewardship as a way of battling climate change.
3 May 18 - New Zealand's resource management regime is to be overhauled – and it could mean the climate ramifications of projects are again taken into account.
3 May 18 - All carbon capture and storage in New Zealand should qualify for credits under the Emissions Trading Scheme – no matter where the carbon comes from, the Productivity Commission says.
2 May 18 - Access to international carbon markets and getting the rest of the world to cut emissions from agriculture are two of New Zealand's negotiating priorities at international climate talks this week.
1 May 18 - The Productivity Commission is badly under-estimating the potential to cut greenhouse gas emissions from the steel and iron industries, says a New Zealand company with technology to do just that.
---