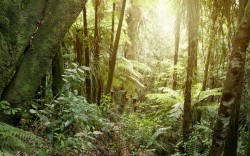 Tuesday - Restoration of New Zealandís wild places should count towards the countryís emissions reduction targets, the Government says.

Tuesday - The ethics of all 390 managed funds operating in New Zealand are about to be opened up to public scrutiny.

Tuesday - The Sustainable Business Network holds an online session on product stewardship today.

Tuesday - Ten years ago, developing countries were calling for rich nations to cut their greenhouse gas emissions by 40 per cent by 2020. For the record, New Zealandís pledge is a five per cent reduction, which it will achieve with the use of credits carried forward from 2013, as annual gross emissions have risen 24 per cent since 1990, and net emissions 57.2 per cent.

Monday - Waikato farmers could be replacing dairy cows with buffalo if the region goes ahead with a plan to drastically cut greenhouse gas emissions.

Monday - Ten years ago, the recent application of the Emissions Trading Scheme to the transport sector was having little impact on fuel prices.

Monday - Parliamentís Environment Select Committee meets today to hear submissions on the Building (Building Products and Methods, Modular Components, and Other Matters) Amendment Bill.
---
Friday - New Zealand is working with Ireland on trade solutions to the problem of carbon leakage in the agricultural sector.
Friday - Young protesters are targeting both Labour and National with sit-ins in Dunedin today, saying both have failed to address the climate crisis.
Friday - The Government is putting $20 million into establishing a national network of hydrogen fuelling-stations.
Friday - Spot NZUs opened at $33.70 bid and $34.05 offered on CommTrade this morning, after last fixing at $33.92.
Friday - Climate minister James Shaw joins Climate Change Commissions deputy chair Lisa Humahai and New Zealand Carbon Farming managing director Matt Walsh in an online discussion today.
Friday - Ten years ago, Trade Me was being test-driven as a site for selling carbon credits.
Thursday - Construction of New Zealandís first large-scale waste-to-biogas plant shows the country could eliminate greenhouse gas emission caused by food rotting in rubbish dumps, the Bioenergy Association says.
Thursday - Spot NZUs opened at $33.70 bid and $34.50 offered on CommTrade this morning, after last fixing at $33.95
Thursday - The Reserve Bank Bill is scheduled to have its first reading today.
Thursday - Ten years ago, the operator of the Huntly coal-fired power station was predicting a fall in greenhouse gas emissions from its operations.
5 Aug 20 - New Zealand's greenhouse gas emissions could be about a fifth lower this year than last year because of covid-19, an international science consortium says.
5 Aug 20 - Fonterra favours wood over electricity for reducing emissions from its South Island plants.
---