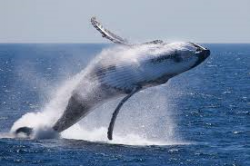 13 Apr 17 - If conservation efforts pay off, whales could help Pacific islands to meet their emissions reductions targets.

1 Mar 17 - The Tongan government and the Asian Development Bank have launched the island group's first climate change trust fund.

14 Feb 17 - Scientists have discovered "extraordinary" levels of toxic pollution in the most remote and inaccessible place on the planet – the 10km deep Mariana trench in the Pacific.

10 Feb 17 - Global warming has already increased the risk of major disruptions to Pacific rainfall, according to new research by Australian scientists.
24 Jan 17 - Even supposing the world does make dramatic reductions in carbon dioxide emissions, the fate of the small island states remains uncertain.
21 Dec 16 - A New Zealand MP is challenging United States president-elect Donald Trump to come to the Pacific and see the impacts of climate change for himself.

19 Dec 16 - The Green Climate Fund board has approved eight funding proposals worth $US315 million ($NZ452m) at a meeting in Samoa.
---
13 Dec 16 - The board of the Green Climate Fund this week is meeting in the Samoan capital Apia. Here, the country's ambassador to the UN outlines his hopes.
7 Dec 16 - Miss Pacific Islands 2016, 23-year-old law graduate Anne Dunn, has been appointed Fiji's ambassador for climate change and the environment.
25 Nov 16 - American automaker and energy storage company Tesla Motors has powered the Pacific island Ta'u almost entirely from solar energy.
28 Oct 16 - A Pacific Climate Change Centre, jointly funded by the Governments of Japan and Samoa as well as the Secretariat of the Pacific Regional Environment Program, will be based in Apia.
13 Sep 16 - Asia and the Pacific has been rocked by intense and unstable weather, bringing into even greater focus the need to build resilience against climate change.
7 Sep 16 - New Zealand's policy of helping Pacific nations to prepare for the impacts of climate change by financing renewable energy projects is under fire.
5 Sep 16 - Three countries have just ratified the Paris Agreement on climate change – China, the United States and the Cook Islands.
5 Sep 16 - Pacific island states have failed to strike a deal to protect shrinking supplies of tuna and adopt cutbacks following a regional conference, officials said, sparking condemnation from...
31 Aug 16 - New Zealand is being urged to form bilateral arrangements with its Pacific neighbours to take climate refugees until a hole in international law is plugged.
9 Aug 16 - The climate change minister says New Zealand's post-2020 emissions reduction target is sufficient to help to protect Pacific nations from the impacts of climate change.
3 Aug 16 - THE World Bank says Fiji will spend close to $700 million by 2040 on climate change adaptation projects for the protection of coastline communities.
18 Jul 16 - When most of us hear of Nauru we tend to think of immigration detention, or perhaps of the environmentally ruinous legacy of the island nation's ill-fated phosphate mining boom.
---