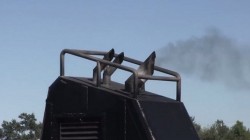 12 Apr 21 - The Marshall and Solomon Islands are calling on the International Maritime Organisation to introduce a US$100 levy on GHG emissions.

22 Feb 21 - Flood walls in Samoa financed by the UN's flagship climate fund are inadequate and could put people in danger, experts warn.

2 Feb 21 - Pacific diplomacy hinges on in-person discussion but web-only meetings have fed a growing dispute over the forum's leadership and purpose.

1 Jul 20 - They contribute only 0.03 per cent of global carbon emissions, but small island developing states, particularly in the Pacific, are at extreme risk to the threats of climate change.

8 Nov 19 - Honolulu mayor Kirk Caldwell wants the city to sue major oil companies for the damage he says they have done to the island of Oahu.

22 Oct 19 - The public champion of the world's largest marine reserve – the Cook Islands' Marae Moana – has said she lost her job managing it because she supported a moratorium on seabed mining in the Pacific.

2 Oct 19 - Whatever happens on the pitches, rugby stars from the Pacific islands face a battle back home to save their ancestral lands from rising sea levels.
---
25 Sep 19 - A coalition of Pacific island nations wants to raise $500m to make all shipping in the Pacific Ocean zero carbon by the middle of the century.
16 Aug 19 - Climate change is taking the fun out of surfing, swimming, and snorkeling in Hawaii.
14 Aug 19 - Australia is trying to water down a declaration on the urgent need for climate action at the South Pacific Forum meeting about to get under way in Tuvalu.
13 Aug 19 - Australian Prime Minister Scott Morrison will unveil a $500m climate change and oceans funding package for the Pacific region when he attends the Pacific Islands Forum in Tuvalu this week.
8 Aug 19 - Fiji will introduce one of the world's most ambitious legislative programmes to tackle the climate crisis, and has labelled the global community grossly irresponsible and selfish.
2 Aug 19 - New Zealand is not joining other Pacific countries in criticising Australia's plans to use Kyoto credits to meet its Paris Agreement target.
1 Aug 19 - Pacific leaders have called on Australia to abandon plans to use carry-over credits to meet Paris climate targets and to immediately stop new coalmining, warning some of their countries could be...
22 Jul 19 - New Zealand sustainable energy company Infratec has successfully completed a $16 million project to deliver reliable renewable energy to four islands in the Cooks.
5 Jul 19 - The story of Kiritimati atoll sheds light on the issues facing those living on such islands all around the world, and the inadequacy of current international policy.
24 Jun 19 - Vanuatu, which has already introduced one of the toughest single-use plastic bans , is believed to be the first nation to propose a ban on disposable nappies.
5 Jun 19 - The rate that the Pacific Ocean takes up human-caused emissions of carbon has increased between 1991 and 2017, a new study finds.
23 May 19 - Pacific leaders have urged Australian Prime Minister Scott Morrison to do more to fight the climate crisis.
---