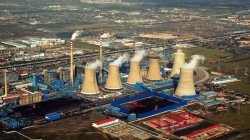 Wednesday - China is planning the world's biggest carbon market, but with little detail given for its design, praise for the scheme is premature.

Wednesday - Spot NZUs opened today at $16.65 bid and $16.90 offered, after last fixing at $16.80.

Wednesday - The world's food security is increasingly reliant on 14 "chokepoints" for trade, a think-tank report has warned.

Wednesday - US academics are arguing with ferocity about how to achieve a fossil fuel phase out. But, for now, the debate is entirely academic.

Wednesday - The new French government has announced it will stop granting licences for new oil and gas exploration.

Wednesday - Qinghai province in China has just used entirely renewable energy for seven days as part of a trial to prove that it is possible to use just green energy.

Wednesday - Since the 1970s, humans have used more resources than the planet can regenerate.
---
Wednesday - Greater emissions reductions and delivering on the Paris climate agreement are now "the only opportunity" to save coral reefs the world over from decline.
Tuesday - Spot NZUs opened today at $16.30 bid and $16.70 offered, after last fixing at $16.50.
Tuesday - One of the world's biggest energy companies sees problems ahead with falling fossil fuel demand and huge growth in renewables.
Tuesday - Seas are rising faster, prompting scientists to warn that coastal adaptation plans should be put in place urgently.
Tuesday - The largest Iceland eruption in 230 years offers a unique look into how aerosols affect the atmosphere.
Tuesday - Organic farming does not always benefit the environment in the ways people expect, and might not avert climate change effects, scientists say.
Tuesday - What do ExxonMobil, Stephen Hawking, the Nature Conservancy, and Ronald Reagan's secretary of Treasury and chief of staff have in common?
Tuesday - Australians who live in apartments have largely been locked out of the solar revolution by a minefield of red tape.
Monday - Spot NZUs opened today at $16.30 bid and $16.60 offered, after last fixing at $16.50.
Monday - Institutional investors remain eager to put money to work on renewable energy projects even as US President Donald Trump has vowed to revive their chief competitor: coal.
Monday - Australia's Climate Council is calling for the backlog of the nation's emissions data to be urgently released, with the Federal Government failing to provide the nation's quarterly data for more than...
Monday - To small island nations where the land juts just above the rising seas, the US pulling out of the Paris global warming pact makes the future seem as fragile and built on hope as a sand castle.
---