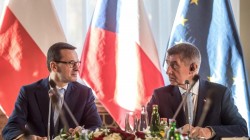 Monday - The European Council has failed to agree on a landmark climate strategy for 2050 as the Czech Republic, Estonia, Hungary and Poland baulked at the mention of a specific date.

Monday - Vanuatu, which has already introduced one of the toughest single-use plastic bans , is believed to be the first nation to propose a ban on disposable nappies.

Monday - Scientists have identified the US military as one of the world's great emitters of greenhouse gases, an agency which buys as much fuel as Portugal or Peru and emits more carbon dioxide than all of Romania.

Monday - The $2.5 trillion fashion business produces more carbon emissions than aviation and shipping combined.

Friday - Canadian Prime Minister Justin Trudeau has given the green light for a second time to a $5.5 billion pipeline expansion that has attracted strong opposition from environmentalists and some indigenous groups.

Friday - Defending against rising seas could cost US communities $416 billion in the next 20 years, according to a new report.

Friday - Australia's Northern Territory has a multi-billion dollar opportunity to invest massively in renewables, create a new hydrogen export industry, and create thousands of jobs, says a new report.
---
Friday - Here is the long-term forecast: Rain will become more torrential, flash floods more frequent. Very heavy rain is a simple response to global temperatures.
Friday - US spy satellites that secretly kept watch over the Himalayas during the Cold War are helping researchers piece together the most detailed view yet of the region's accelerating ice loss.
Thursday - Morocco, Gambia, Bhutan, Costa Rica, Ethiopia, India and the Philippines are the good guys.
Thursday - New York politicians have reached a deal to create one of the most ambitious climate bills in the US, putting the progressive state on the front lines of fight over the environment.
Thursday - The UK is set to host a critical global summit on the climate crisis at the end of 2020, at which the world's 190 nations must commit to deep cuts in emissions.
Thursday - Australia has been warned it risks "drifting into the future" if it fails to respond to challenges in a fast-changing world.
Thursday - The Florida city of Deerfield has put 633 divers into the water in what it claims is the world's largest underwater clean-up.
Wednesday - Some of the major oil producers have pledged to support "economically meaningful" carbon pricing regimes after a personal appeal from Pope Francis.
Wednesday - Humans' ability to survive and adapt to the changing climate might come down to microbes.
Wednesday - Engineers say there is no technical reason why hydrogen cannot replace natural gas to make electricity, heat homes and for cooking.
Wednesday - Germany, Greece, Italy and Slovenia have added their names to a growing list of EU countries supporting a carbon neutrality objective for 2050, increasing the chances that a deal will be struck at a...
Wednesday - Thirteen journalists who were investigating damage to the environment have been killed in recent years and many more are suffering violence, harassment, intimidation and lawsuits.
---