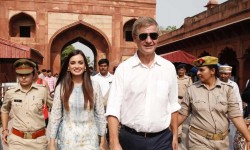 Monday - The globe-trotting travels of UN environment chief Erik Solheim have been sharply criticised in a draft internal audit as "contrary to the ethos of carbon emission reduction".

Wednesday - New research shows direct evidence that toxic air – already strongly linked to harm in unborn babies – travels through mothers' bodies.

18 Sep 18 - If the cement industry were a country, it would be the third largest emitter in the world.

17 Sep 18 - Cities, states and business from around the world called on national governments to redouble their efforts to fight climate change, as a summit in San Francisco ended at the weekend.

13 Sep 18 - The funds committed to fossil fuel divestment now total more than $6 trillion with almost 1000 institutional investors having made the pledge, according to a new report.

12 Sep 18 - UN Secretary-General António Guterres has warned that the world is facing "a direct existential threat" and must rapidly shift from dependence on fossil fuels by 2020 to prevent "runaway climate change".

10 Sep 18 - Global soft drink companies have made their biggest commitment yet to eliminating the use of throwaway plastic bottles, in an action plan presented to UK parliament.
---
10 Sep 18 - Governments have taken the first steps on a path that might lead to the creation of a global environment treaty.
7 Sep 18 - Familiar plastic can holders used for lager and beer multipacks could be on their way out after global brewing giant Carlsberg revealed plans to replace them with recyclable glue.
5 Sep 18 - Destruction of tropical forests is disrupting the movement of water in the atmosphere, causing major shifts in rainfall.
4 Sep 18 - Since the Paris Agreement was adopted in December 2015, negotiators have been grappling with how to set it in motion with a strong framework of rules, commonly known as "the Paris Rulebook."
4 Sep 18 - Lego has announced plans to stop the production of plastic blocks by 2030.
3 Sep 18 - Growing swarms of hungrier and hyperactive insects might wipe out big percentages of the world's three most important grain crops, wheat, corn and rice, scientists warn.
3 Sep 18 - NESTLE is exploring the use of plastic waste as a raw material for fuel.
31 Aug 18 - Mining of precious metals used in smartphones is a vital activity that underpins the modern global economy. But the environmental cost can be enormous.
30 Aug 18 - Don't bother changing your lifestyle to stop climate change - just buy carbon credits, says a UN climate change video promotion.
29 Aug 18 - An additional 290 million people could face malnutrition by 2050 if little is done to stop the rise of greenhouse gas emissions, a study finds.
29 Aug 18 - The GlobalWarming mod was created by a student who wants people to learn to work together to combat climate change.
27 Aug 18 - Last year was the second-worst on record for global tropical tree cover loss, according to new data. An area roughly the size of the New Zealand's South Island was lost.
---