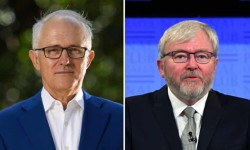 Wednesday - Two former prime ministers, Kevin Rudd and Malcolm Turnbull, write the world shouldn't give up hope on Australia just yet

Monday - Australia is like a firefighter holding a hose with one hand and a box of matches in another when it comes to climate change. And according to two Aussie academic, it's only going to get worse.

14 Apr 21 - THE Northern Territory could lose one-third of its doctors because of the ever-increasing heat, according to a new study ringing alarm bells for all regional areas.

13 Apr 21 - With support from the Australian government, the Adani corporation is pushing ahead with an environmentally destructive coal mine in Queensland. But the traditional Aboriginal owners of the land, the Wangan and Jagalingou nation, are waging a determined fight to stop them.

9 Apr 21 - On Wednesday this week, the New South Wales Deputy Premier and Minister for Regional NSW, Industry and Trade John Barilaro stood next to a train packed with coal, hurtling past metres away as he espoused the benefits of coal mining (sadly, he failed to literally salute it, as he had promised in the tweet).

1 Apr 21 - Australia is about to get a carbon price, one way or another. Unfortunately, the process is shaping up to be much more economically damaging than it could have been, says Sydney Morning Herald senior economics writer Jessica Irvine.

1 Apr 21 - The $26 billion, gigawatt-scale solar export plans of the Sun Cable consortium made important progress this week, with the lodgement of a development application for the first phase of a solar manufacturing and assembly facility in Darwin.
---
29 Mar 21 - Renewable energy and batteries can secure Australia's electricity grid as effectively as coal and gas, new research suggests.
29 Mar 21 - The Australian Energy Market Operator says gas could disappear from that country's grid because it can't compete with renewables and green hydrogen.
22 Mar 21 - Heavy rains along Australia's east coast over the weekend have brought the worst flooding in half a century in some areas, authorities said on Sunday, forcing thousands to evacuate and damaging...
18 Mar 21 - Scott Morrison has reiterated his intention to reach net-zero emissions "as soon as possible and preferably by 2050", and transition Australia to a "new energy economy", in a conversation with Joe...
11 Mar 21 - Australia's third-largest power retailer EnergyAustralia will shut its ageing Yallourn coal-fired power station in 2028, four years earlier than previously flagged, stoking concern about electricity...
10 Mar 21 - The former Australian finance minister vying to become the new head of the OECD said he would pursue an "ambitious" and "global" approach to help nations become carbon-neutral by 2050.
4 Mar 21 - Millions of Australians could be left uninsured as the effects of climate change put increasing pressure on the financial system, the industry's regulatory body has warned.
2 Mar 21 - Eight teenagers and an octogenarian nun are in Australian court today to launch what they hope will prove to be a landmark case – one that establishes the federal government's duty of care in...
24 Feb 21 - Reports that Britain's prime minister, Boris Johnson, is considering calling for carbon border levies at the G7 summit to be held in London in June have produced a predictable reaction from the...
23 Feb 21 - Australia's' natural gas pipeline owners are working to future-proof their $A75 billion in assets amid a global push towards clean energy, running tests to blend hydrogen with gas and produce green...
22 Feb 21 - The Australian Government is backing soil carbon – drawing carbon from the atmosphere and storing it in the land – as a major part of its response to the climate crisis.
15 Feb 21 - Listed Australian energy company AGL says it will urgently rewrite its business strategy after rapid market change forced it to announce a massive loss in the December half, and as demand for home...
---