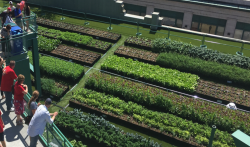 Tuesday - Rooftops covered with grass, vegetable gardens and lush foliage are now a common sight in many cities around the world.

Monday - Spot NZUs opened at $24.70 bid and $24.80 offered this morning, after last fixing at $24.75.

Monday - The world's three largest money managers have built a combined $300bn fossil fuel investment portfolio using money from people's private savings and pension contributions, the Guardian reveals.

Monday - A global agreement to make fossil fuel burning more expensive is urgent and the most efficient way of fighting climate change, the International Monetary Fund says.

Monday - How will Big Oil adapt as fossil fuel demand wanes with the rise of renewable energy and battery power? The answer is plastic.
Thursday - Not only will coal continue to be the dominant fuel source in power generation in Southeast Asia, its use will grow and peak in 2027 before slowing, according to a new study.

Thursday - Giant greenhouses will be used to grow up to 20 tonnes of tomatoes a day using the heat from water treatment facilities in the UK.
---
9 Oct 19 - SUVs are a paradox. While many people buy them to feel safer, they are statistically less safe than regular cars.
9 Oct 19 - Denmark, backed by 10 other European Union countries, has called for a strategy to phase out diesel and petrol cars by 2030.
8 Oct 19 - Two of the most powerful forces in Brazil, the president and the pope, are pulling in opposite directions on an issue critical to climate change.
8 Oct 19 - Members of Extinction Rebellion have been described in the UK media as ecomaniacs, ecoradicals, dangerous, and a bloody mess.
8 Oct 19 - Twenty of the UK's leading universities have struck a £50m deal to buy renewable energy directly from British windfarms for the first time.
8 Oct 19 - For the entire 2.5 million years of the Ice Age epoch called the Pleistocene, it was a low-carbon world.
7 Oct 19 - Most of the world's 50 largest banks have not made sustainable finance commitments to respond to the risks of climate change and continue to finance fossil fuels, says a new report.
7 Oct 19 - By 2050 about two-thirds of the human population — that is six out of the world's nine billion people — will be living in cities.
7 Oct 19 - Protesters who disrupt traffic should have their welfare payments cut and be subject to mandatory jail sentences, Australia's home affairs minister Peter Dutton has declared.
7 Oct 19 - By CHIKA UNIGWE | Young people in the global south have been tackling the climate crisis for years. They should be celebrated, too.
4 Oct 19 - A huge floating device designed to clean up an island of rubbish in the Pacific Ocean that is three times the size of France has successfully picked up plastic from the high seas for the first time.
4 Oct 19 - Developments that tackle climate change could avoid having to get planning permission, under proposals being considered by the Scottish government.
---