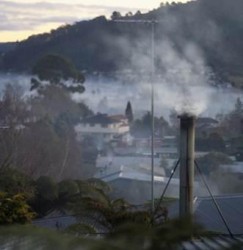 Friday - Air pollution is probably increasing the number and severity of covid-19 cases and could be important to managing the pandemic, experts say.

Friday - As greenhouse gas emissions soar, ocean sensitivity has quietly helped humanity to slow global heating: the seas have responded by absorbing more and more carbon dioxide from the atmosphere.

Friday - The United Nations' aviation emissions offsetting scheme will not take 2020 into account when calculating how much airlines have to pay to neutralise their carbon dioxide output - a move environmental groups say makes a mockery of climate policy.

Thursday - Despite three decades of relative inaction on climate change and stalling from successive Australian Governments, the Morrison Government has claimed success in meeting Australia's targets under the Kyoto Protocol, which came to an end on Wednesday.

Thursday - Global oil demand and carbon dioxide emissions probably peaked in 2019 as the Covid-19 pandemic will have a lasting impact on both, says energy consultancy DNV GL.

Thursday - The likelihood of the UK experiencing deadly 40deg temperatures for the first time is "rapidly accelerating" due to the climate crisis, scientists have found.

Thursday - A Texas company has plans to store surplus electricity under ground - in pressurised water.
---
Thursday - Welcome to the Energy Vault - a giant tower with a crane at its centre and thousands of massive stackable bricks, each weighing more than a fully loaded school bus.
Wednesday - Spain is on track to become a coal-free country in record time. All of its remaining coal-fired thermal power plants started shutting down yesterday, a year-and-a-half after the closure of the coal...
Wednesday - They contribute only 0.03 per cent of global carbon emissions, but small island developing states, particularly in the Pacific, are at extreme risk to the threats of climate change.
Wednesday - Beavers are creating lakes that accelerate the thawing of frozen soils and potentially increase greenhouse gas emissions, a study finds.
Tuesday - Geologists have linked one of the planet's most devastating events to the burning of fossil fuels, as ancient coal fires set in train a global extinction wave.
Tuesday - If microplastics can enter the food web on King George Island, they can probably do so almost anywhere on earth.
Tuesday - The European Union can reach climate neutrality as early as 2040, according to a group of environmental NGOs which have mapped out a scenario to move the bloc towards a 100 per cent renewable energy...
Tuesday - Ireland's new coalition government has set itself a goal to deliver steep greenhouse gas emissions cuts every year to reach neutrality by 2050.
Tuesday - Renewable energy companies are falling short on efforts to safeguard the rights of workers and communities in their operations and throughout mineral supply chains, placing the sector's legitimacy...
29 Jun 20 - PARSOLOI KUPAI'S home, situated on the edge of Ol Kinyei conservancy near the Maasai Mara game reserve, is no different from any other Maasai homestead – oval-shaped huts with an almost flat roof and...
29 Jun 20 - Some of most ecologically sensitive lands in the National Petroleum Reserve-Alaska, a few hundred miles west of the Arctic National Wildlife Refuge, might soon be open for business to the oil...
29 Jun 20 - The poster advertising an evening of debate and organic canapés looked familiar to environmentally conscious Germans - a rugged pair of hands, cupping fertile brown soil, underneath the slogan "Farms...
---