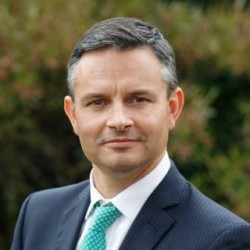 Today 11:45am - Climate Change Minister James Shaw says the Government is considering the Parliamentary Commissioner for the Environment's recommendations - which include a call for a departure tax.

Today 11:45am - In the final chapter of the just released Climate Aotearoa, Adelia Hallett argues that there are two things that we need to do urgently: "stop burning fossil fuels, and look after nature. Because there are no technological silver bullets on the horizon to save us. We have to work with what we've got in front of us now."

Today 11:45am - All fibre superhighways lead to Washington, this week, for Joe Biden's virtual climate summit on Thursday.

Today 11:45am - Ten years ago, the then climate change minister, Tim Groser was telling us progress on climate change will come through "boring detail" and not political rhetoric.

Monday - The government missed an opportunity to transition to a more sustainable future with the opening of the trans-Tasman bubble today, according to two academics.

Monday - A conference on a Citizen's Assembly for Climate in Aotearoa is being held at Rehua marae, Christchurch today.

Monday - Ten years ago, the then British High Commissioner, Tony Clemson, was criticising New Zealand for not doing enough about climate change. The more things change... British High Commission first secretary TONY CLEMSON in a personal view, countries are going low-carbon and getting ready to reap the financial rewards. But not New Zealand
---
Friday - Forest and Bird is calling on the government to return a million hectares of marginal land to native bush in the wake a Ministry of the Environment report showing native eco-systems continuing to...
Friday - The New Zealand Herald has published a series of articles in recent days as its contribution to Covering Climate Now's "Living Through the Climate Emergency" week of coverage in the lead up to Earth...
Friday - Tomorrow is the International Day of Peasant Struggle.
Friday - Ten years ago, Solid Energy said the Government was wrong to listen to Pike River Coal's advice on methane gas emissions from coal mines.
Thursday - BY JEREMY ROSE - When Andy Dynan set himself up as an independent electrician, just over a year ago, he did what most tradies do and bought himself a 4 x 4 Toyota Hilux. The ute – New Zealand's most...
Thursday - Tomorrow is World Environment Day 2021..
Thursday - Ten years ago, Carbon News was reporting the ETS had failed to boost forest planting.
14 Apr 21 - Landcorp dairy farms that have gone organic have made big cuts to their GHG emissions and increased their profitability.
14 Apr 21 - Organics NZ has an online launch of its market report for 2020/2021 today.
14 Apr 21 - Ten years ago, NZ was on target to meet its Kyoto targets (a truly distant memory.)
14 Apr 21 - More than 300 businesses have called on President Joe Biden to nearly double U.S. targets to reduce planet-warming emissions below 2005 levels by 2030.
14 Apr 21 - The world's wealthy must radically change their lifestyles to tackle climate change, a report says.
---