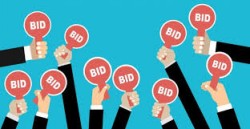 Today 12:00pm - New Zealandís new carbon-auctioning seems to be working smoothly.

13 Jan 21 - Simulated auctions of NZUs will be held on January 27 and 28 to test whether the country is ready for the new auctioning regime.

10 Dec 20 - Spot NZUs have hit $38 just two days after reaching $37, tempting sellers back into the market.

9 Dec 20 - Carbon prices crashed through the $37.50 mark yesterday, closing at a record $37.55 on both CommTrade and Carbon Match.

8 Dec 20 - Carbon prices pushed higher again yesterday, making daily gains of 1.64 per cent on both major trading platforms.

7 Dec 20 - Carbon prices are continuing their climb, recording gains of almost 50 per cent for the year.
4 Dec 20 - Carbon prices continued their upward charge yesterday, gaining 25 cents to contribute to a phenomenal 47 per cent rise over a year.
---
3 Dec 20 - New Zealand carbon prices have broken through a new price barrier, with spot NZUs now trading more than $1 above the fixed-price option.
19 Nov 20 - Carbon prices are continuing to climb, with sellers now seeking up to $35.90 for spot NZUs.
18 Nov 20 - Carbon prices are hitting new highs, with spot NZUs trading at $35.70 on CommTrade this morning.
16 Nov 20 - International interest is growing in New Zealandís carbon market as units hit record prices.
12 Nov 20 - United Nations special envoy and former Bank of England Governor Mark Carney wants stronger quality control on voluntary carbon markets to meet growing business demand.
22 Oct 20 - The Governmentís new carbon-auctioning site could be connected to platforms in the secondary market.
21 Oct 20 - NZX has won the right to set up and operate the Governmentís carbon-auctioning platform.
20 Oct 20 - Carbon markets have barely reacted to the general election, which returned Labour to power with an absolutely majority and arguably an endorsement of its actions on climate change.
16 Sep 20 - New Zealand carbon prices have broken through the $35 expected to act as a price cap and are being tipped to go higher.
10 Sep 20 - A major New Zealand bank is asking its biggest-emitting customers to explain how they will reduce their carbon footprints.
14 Aug 20 - More than a fifth of New Zealandís greenhouse gas emissions last year were covered by the fixed-price option, potentially increasing the size of the countryís 2030 carbon liability.
4 Aug 20 - John Kerry is betting that Wall Street will succeed where governments failed in the fight against climate change.
---