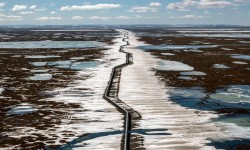 21 Oct 20 - Oil company ConocoPhillips has a problem; it wants to pump 160,000 more barrels of oil each day from a new project on Alaska's North Slope, but the fossil fuels it and others produce are leading to global heating, and the Arctic is melting.

16 Oct 20 - United States supreme court nominee Amy Coney Barrett refused to say whether she accepts the science of climate change, under questioning from Kamala Harris, saying she lacked the expertise to know for sure and calling it a topic too controversial to get into.
15 Oct 20 - Every so often you come across a piece of writing so extraordinary that you cannot help but share it. One such piece is a sermon on global warming by American pastor John MacArthur.

9 Oct 20 - Former Federal Reserve Chair Janet Yellen said bipartisan concern over climate change could see the United States adopt a tax on carbon emissions, with the proceeds shared with households, if Democrat Joe Biden is elected president in November.

8 Oct 20 - In last week's United States presidential election debate, Donald Trump claimed: "We have now the lowest carbon. If you look at our numbers right now, we are doing phenomenally."

5 Oct 20 - Michael Mann, one of the most eminent climate scientists in the world, believes averting climate catastrophe on a global scale would be "essentially impossible" if Donald Trump is re-elected.

5 Oct 20 - If you had invested in Florida-based utility NextEra Energy a decade ago, your total return through this week, including dividends, would have been 600 per cent.
---
11 Sep 20 - The devastating wildfires now sweeping across the western United States are among the sparks from climate change that could ignite a financial crisis by damaging home values, state tourism and local...
8 Sep 20 - Joe Biden will not pull any punches with allies including Australia in seeking to build international momentum for stronger action on the climate crisis, an adviser to the United States presidential...
4 Sep 20 - The city of Hoboken, New Jersey, has filed a lawsuit seeking damages from ExxonMobil and other major oil and gas companies for misleading the public about the harmful climate-related impacts such as...
1 Sep 20 - Biodiversity and effects of climate change can be significantly affected by small-scale rewilding projects, argues designer and environmentalist Julia Watson, who has temporarily covered New York's...
26 Aug 20 - Recent reports of record-breaking heat in the Golden State may be only part of the story: Californian hopes of cooler future days are strengthening with the entry into service of new technology that...
26 Aug 20 - The costs of wildfire, hurricanes, floods and droughts have quadrupled since 1980, a new report shows.
24 Aug 20 - Demand in the United States or air conditioning is expected to increase 59 per cent by 2050.
21 Aug 20 - United States presidential candidate Joe Biden says he is committed to ending fossil-fuel subsidies after a backlash from environmentalists over the removal of the issue from a Democratic Party...
21 Aug 20 - When progressive Seattle decided last year to wipe out its climate pollution within the decade, the city council vote in favour was unsurprisingly unanimous, and the easiest first step on that path...
21 Aug 20 - Despite the intense heat and smoky air, John Omstead decided to spend one of his days off fly fishing. He traveled from his home town of Vail to a spot on the Eagle River near Dotsero, just a few...
18 Aug 20 - What could be the highest temperature ever reliably recorded on Earth - 130F (54.4C) - may have been reached in Death Valley National Park, California.
14 Aug 20 - The Trump administration is revoking rules that require oil and gas drillers to detect and fix leaks of methane, a greenhouse gas that heats the planet far faster than carbon dioxide.
---