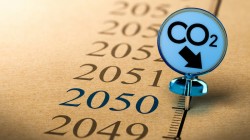 Monday - Long-term thinking about climate change is challenging widely held assumptions about how we spend money today.

Monday - Scientists studying the troposphere – the lowest level of the atmosphere – have found "powerful evidence" that climate change is altering seasonal temperatures.

Monday - A plan for a massive waste-to-energy incinerator in western Sydney has been blocked, after the New South Wales Independent Planning Commission ruled there was "uncertainty" over human health and environmental impacts.

Monday - Baltimore's waterfront revitalisation has become a model for urban development, but sea level rise and extreme weather are putting its future at risk.

Monday - A federal judge has dismissed New York City's lawsuit against five of the world's largest oil companies, dealing a setback to local governments that are trying to hold the fossil fuel industry accountable for climate change.

Monday - Airbus has unveiled plans to manufacture a solar plane which will fly unmanned high in the sky.

Friday - Meat and dairy companies are on track to be the world's biggest contributors to climate change, outpacing even the fossil fuel industry, according to a new report.
---
Friday - The floor of California's Central Valley is slumping, and there is arsenic in the tap water. It seems the two problems are connected.
Friday - Palau plans to stop buying diesel and go 100 per cent solar by the end of 2019 - offering a blueprint for other Pacific nations to do the same.
Friday - UN Environment and Google have joind forces to provide trackable data on human impacts on the environment.
Friday - The average Singaporean uses an unconscionable 13 plastic bags a day. With its only landfill site fast filling up, what are consumers and businesses doing to defuse the nation's plastic waste...
Friday - England is on the brink of burning more of its rubbish in incinerators than it recycles for the first time, according to a new analysis.
Thursday - Europe's massive free-trade deal with Japan is the first the EU has struck with a specific provision on the Paris climate agreement.
Thursday - The rise in sea levels will put vital internet infrastructure at risk, new research suggests.
Thursday - Indigenous peoples are crucial for global conservation and for living with climate change – after all, a quarter of all land is in their hands.
Thursday - More than a billion people are at risk from a lack of air conditioning and refrigeration to keep them cool and to preserve food and medicines as global warming brings more high temperatures, a new...
Thursday - The extreme heat that has come with climate change is prompting aircraft manufacturers to test their fleets for increasingly hotter temperatures.
Wednesday - Climate change will become a "main pillar" of the relationship between the European Union and China, leaders said yesterday.
Wednesday - What if countries responded to US President Donald Trump's tariffs by taxing imports based on their carbon footprint instead?
---