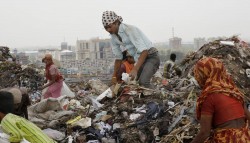 Tuesday - Environmental justice activism is to this age what the workers' movement was for the industrial age - one of the most influential social movements of its time. But its stories seem to get lost.

Monday - The scorching temperatures and forest fires of this summer's heatwave have finally stirred the world to face the onrushing threat of global warming, claims the climate scientist behind the recent Hothouse Earth report.

Friday - It is the temperature at which human cells start to cook, animals suffer and air conditioners overload power grids. Once an urban anomaly, 50C is fast becoming reality.

Friday - Anglo-Saxon capitalism's drive to maximise profits in the short term won't save the planet. Perhaps the Chinese model can?

15 Aug 18 - The deadly global heatwave has made it impossible to ignore: in cities worldwide, we are now divided into the cool haves and the hot have-nots

14 Aug 18 - Money channelled through secretive tax havens has been used to fuel deforestation in the Amazon and illegal fishing around the world, racking up a heavy environmental toll.

14 Aug 18 - This year has seen record-breaking temperatures across the globe. What is at risk in this increased heat?
---
14 Aug 18 - Tales of giants helped people to explain the sometimes cataclysmic changes to the environment they saw around them.
13 Aug 18 - The future of the UN's major climate fund hangs in the balance, with a looming cash shortfall and a boardroom locked in conflict.
13 Aug 18 - Some plastics cannot be recycled yet, but turning them back to oil could help to solve the problem.
13 Aug 18 - Around 600 of AccorHotel's sites across the world now grow their own produce on site for use in its restaurants and bars as part of food waste drive.
10 Aug 18 - New studies linking heart disease to supposedly 'safe' levels of pollution lay bare the human cost of using fossil fuels.
8 Aug 18 - Allowing the world to warm by even 2deg could threaten the existence of humans.
8 Aug 18 - During the rise of mammals, Earth's temperatures spiked in a scary way that the planet might experience again soon. In New Zealand, life endured mean annual temperatures of up to 29deg ... 15deg...
8 Aug 18 - The amount of methane absorbed by forest soils has fallen by an average of 77 per cent in the northern hemisphere over the past 27 years, a new study finds.
8 Aug 18 - Climate change is altering the makeup of soil, with widespread impacts on plants, ecosystems and food security, according to scientists.
7 Aug 18 - Total global coal capacity continues to inch up, but a peak is on the horizon, new research shows.
7 Aug 18 - The good news is that safe plastic is not an impossible dream. Novel ways to tackle the tide of discarded material engulfing the planet are under development.
7 Aug 18 - As companies move to get rid of single-use plastic bags and bans on microbeads are coming into force, new biodegradable or compostable plastic products seem to offer an alternative. But they might be...
---