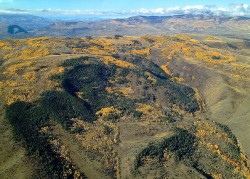 8 Feb 19 - The landscapes and climate in many parts of the world could be nearly unrecognizable by the end of the century if greenhouse gas emissions continue at their current pace, research suggests.

5 Feb 19 - Ponds are good for more than just decorating the garden – they could be your best tool in fighting climate change.

1 Feb 19 - The chemical process used by Scuba divers can efficiently strip carbon dioxide out of the residue of coal-fired electricity generation, scientists say.

31 Jan 19 - Last summer's heatwave gave New Zealand its warmest summer and the warmest January on record. It lead to early grape harvests and the deaths of farmed fish.

31 Jan 19 - US scientists have created super-thin, bendy materials that pave the way for energy-harvesting covers ranging from tablecloths to giant wrappers for buildings.

19 Dec 18 - Cutting methane and nitrous oxide emissions from farming are critical to keeping the world to no more than 1.5deg of warming, scientists say in new research.

30 Nov 18 - New technologies that can remotely monitor the high seas will be crucial to enforcing a proposed deal to preserve the biological diversity of oceans, researchers say.
---
26 Nov 18 - Cooling the Earth by injecting sun-blocking particles into the stratosphere could be "remarkably inexpensive", according to the most detailed engineering analysis to date.
21 Nov 18 - Ask medieval historian Michael McCormick what year was the worst to be alive, and he's got an answer: 536.
20 Nov 18 - One hundred and fifty New Zealand academics calling for "emergency" action on climate change say economic growth has to stop.
9 Nov 18 - The entire ozone layer — even the highly damaged parts over the North Pole and South Pole — could be completely healed by 2060.
5 Nov 18 - The wellbeing of people might one day depend on a blue-blooded crab that looks like a cross between the facehugger from Alien and a gigantic louse.
31 Oct 18 - The debate around the regulation of cell-based meat has stepped up significantly with one of major issues being what to call the new product.
5 Oct 18 - One-time New Zealand company LanzaTech developed the fuel for a Virgin Atlantic jet which has just flown from Orlando to Gatwick powered by a blend of aviation fuel and ethanol produced from waste...
5 Oct 18 - Plastics are among the most valuable waste materials – it's possible to convert all plastics directly into useful forms of energy.
3 Oct 18 - A new alternative to plastic has the possibility to "replace all the packaging we know," because it is so safe that even fish can eat it.
2 Oct 18 - Scientists in the United States and Saudi Arabia have harnessed the abilities of both a solar cell and a battery in one device - a "solar-flow battery" that soaks up sunlight and efficiently stores...
2 Oct 18 - Mushrooms are capable of expediting the breakdown of plastic waste, says a new study from the Royal Botanic Gardens Kew in London.
28 Sep 18 - It's not just the atmosphere and the oceans that are heating up. An ever-denser blanket of greenhouse gases is also sending warmer air and water deeper into the planet's rocky bones.
---