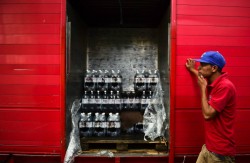 Thursday - An analysis of more than 600 top US companies has found that those seeing the effects of global warming first-hand are taking the most concrete actions.
Tuesday - Former New York City mayor Michael Bloomberg has said he will write a $4.5m cheque to cover this year's US commitment to the Paris Climate Agreement.

Tuesday - California is likely to swing from drought to extreme rainfall and flooding more often in the future, a new report says.

Monday - Miami Beach's $500 million attempt to elevate and pump itself out of sea level rise's path has drawn criticism, but an expert panel says the city's doing what it needs to survive.
18 Apr 18 - Nine years after its launch, the US's first mandatory carbon-trading programme is still boosting the economy and creating jobs in its nine-state region.

18 Apr 18 - Scientists have found nature is the most cost-effective way of reducing the impacts of extreme weather events.

16 Apr 18 - Former coal industry lobbyist Andrew Wheeler has been confirmed as second in command at the the US Environmental Protection Agency.
---
16 Apr 18 - Louisiana is proceeding with ambitious plans to redirect the Mississippi River — but even this massive intervention might not be enough to save the most threatened lands from fast-rising seas.
9 Apr 18 - A Seattle proposal to make drivers pay a fee for coming downtown is a linchpin in a list of initiatives aimed at reducing carbon emissions from the city's transportation sector.
5 Apr 18 - US environmental regulators will ease emissions standards for cars and trucks, saying that a timeline put in place by President Obama was not appropriate and set standards "too high".
5 Apr 18 - Even the waters of Walden Pond, where Henry David Thoreau famously retreated to try to understand nature, are not safe from climate change and human pollution.
3 Apr 18 - A US federal judge has rejected Exxon's attempt to shut down two state investigations into whether the oil giant misled investors for years about the risks of climate change.
29 Mar 18 - A federal court has ruled on clmate grounds against a US Interior Department plan to open more than 15 million acres of public land and mineral rights to fossil fuel extraction.
16 Mar 18 - New York has said it will spend $1.4 billion on 26 renewable projects, including 22 solar farms, three wind farms, and one hydroelectric project.
15 Mar 18 - Former California Governor Arnold Schwarzenegger is planning to sue oil companies, alleging they are "knowingly killing people all over the world".
15 Mar 18 - Mike Pompeo, Donald Trump's choice to replace Rex Tillerson as US foreign affairs chief, is an ally of the Koch brothers and a critic of the Paris climate agreement.
6 Mar 18 - Kemper power plant in the US promised to be a world leader in 'clean coal' technology but Guardian reporting found evidence top executives knew of construction problems and design flaws years before...
14 Feb 18 - The US Environmental Protection Agency's enforcement activity against polluters has fallen to its lowest level in a decade.
9 Feb 18 - US President Donald Trump's fight against climate change reduction efforts hasn't had a noticeable impact - yet. Why not?
---