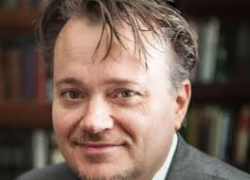 15 Dec 17 - Donald Trumpís climate adviser George David Banks cut an intriguing, divisive figure at the recent climate talks in Bonn.
13 Dec 17 - The oil industry has stalled action on climate change from the inside and sold America on fossil fuels Ė and its influence goes back further than people realise.

13 Dec 17 - After spending years building up its gas-power business, General Electric is trying to figure out how to keep pace in a world thatís no longer all that interested in fossil fuels.

13 Dec 17 - A $3 billion project that will introduce high-speed deisel trains to the US could take up to three million cars off the roads.

11 Dec 17 - A senior Volkswagen executive has been sentenced to seven years in prison by a US court after being found guilty of concealing software used to evade pollution limits on nearly 600,000 diesel vehicles.

29 Nov 17 - Accelerating glacial melt in the Andes caused by climate change has set off a gold rush downstream, letting the desert bloom. But as the ice vanishes, the vast farms below might do the same.
28 Nov 17 - That Charles and David Koch are putting $650m into Meredith Corpís purchase of Time would ordinarily be cause for great soul-searching in media. But these are not ordinary times.
---
27 Nov 17 - Since 2008, Texas, Oklahoma, Kansas and a handful of other states have experienced unprecedented surges of earthquakes.
24 Nov 17 - New York Cityís public housing authority is taking bids in a plan to lease its roofs for community solar projects that could power thousands of urban homes.
24 Nov 17 - Climate change contributed to the wave of German immigration to the US that included Donald Trumpís grandfather.
23 Nov 17 - California will collect $860 million from auctioning carbon-emissions permits after the allowances sold out at a record price for the second straight quarter.
23 Nov 17 - The US Senate Appropriations Committee this week introduced a bill that would cut nearly $150 million in funding for the Environmental Protection Agency next year.
22 Nov 17 - The Trump administration is tweaking how it measures the costs of emitting a potent greenhouse gas, a move that will have major impacts for climate rules.
17 Nov 17 - As climate change fuels large wildfires, the pollution they're releasing is making Americans sick and undermining decades of progress in cleaning the air.
15 Nov 17 - Bill Gates is buying 25,000 acres near Phoenix, Arizona, on which to build a high-tech smart city named Belmont.
15 Nov 17 - To produce four US hamburger patties takes 25 kilogrammes of animal feed, 25 square metres of land, and about 220 litres of water.
9 Nov 17 - California State leaders are discussing banning the sale of the millions of cars that run on gasoline or diesel.
2 Nov 17 - US Environmental Protection Agency chief Scott Pruitt is poised to jettison scientists who have received grants from the EPA and replace them with industry experts and state government officials.
1 Nov 17 - Across the United States, the yearís first freeze has been arriving further into the calendar, according to more than a century of measurements.
---