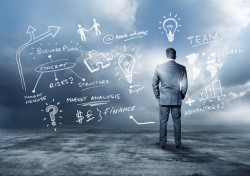 Monday - Leading chief financial officers, chairs of pension funds and the chief executives of global accounting bodies – including one from New Zealand - are calling for transparency about carbon exposure.

Monday - A senior Volkswagen executive has been sentenced to seven years in prison by a US court after being found guilty of concealing software used to evade pollution limits on nearly 600,000 diesel vehicles.

Monday - Almost all coal plants in the European Union will be outspending their income by the end of the next decade, relying on subsidies to stay open to back up wind and solar generation.

Monday - Civil society leaders from more than 100 countries meeting in Suva have called for action on climate-induced displacement.

Monday - Proposals in the UK aimed at reversing decades of decline in the rail system, have been praised as the "rebirth of the railways".

Monday - It's freezing, snowing and so far north that the sun won't rise again until March, but the 2000 residents of the world's most northerly town wish it were much colder.

Monday - La Caverne is an urban farm that grows mushrooms, herbs and greens beneath the streets of Paris.
---
Friday - Adani's operations in Australia appear to be hanging on by a thread, as activists prove effective at undermining the company's chances of getting the finance it needs.
Friday - The premiers of China and Canada have announced deeper collaboration on climate change and energy, including on carbon markets.
Friday - Air pollution significantly increases the risk of low birth weight in babies, leading to lifelong damage to health, according to a large new study.
Friday - Tesla's South Australia battery system won't hold the title of world's largest for long - Hyundai is building one 50 per cent bigger.
Friday - The public is fighting back against an EU decision to renew the licence of controversial pesticide Glyphosate.
Friday - Wi-Fi, USB charging and even a sunroof are among the features of London's new six-seat, battery-powered cabs.
Thursday - Many observers of China's escalating global programme of foreign investment and infrastructure development are crossing their fingers and hoping for the best.
Thursday - The world's oceans are under the greatest threat in history, according to Sir David Attenborough.
Thursday - Iceland's new Prime Minister Katrin Jakobsdottir, 41, says she wants her nation to be carbon neutral by 2040.
Thursday - While the Polish government champions coal, the area around Katowice, host of next year's UN climate summit, is starting to diversify its economy.
Thursday - Carmakers putting huge investment into electric vehicles at the behest of governments a having to live with the fear of potentially choking on unsold inventories.
Thursday - France has topped the 2017 edition of the Food Sustainability Index exhibiting the best performance across food loss and waste, sustainable agriculture and nutritional challenges.
---