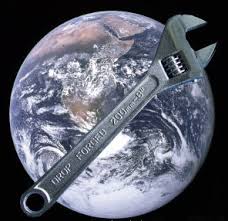 Tuesday - Geoengineering to reverse climate change could wipe out more species than it saves, scientists are warning.

Tuesday - As other major powers find themselves in climate denial or atrophy, China might well boost its power and status by becoming the global energy leader of tomorrow.

Tuesday - All of Norway's short-haul airliners should be entirely electric by 2040, says the country's airport operator, cementing the Nordic nation's role as a pioneer in the field of electric transport.
Tuesday - Lloyd's of London, the world's oldest insurance market, has become the latest financial firm to announce that it plans to stop investing in coal companies.

Tuesday - In an age of worrying climate change and looming fossil energy decline, home-produced biogas is an extremely promising technology whose time has come.

Tuesday - Re: your article about Eugenie Sage and our waste problem.

Monday - Last year was the hottest since global records began that was not given an additional boost by the natural climate cycle El Niño, according to new data.
---
Monday - As Australian sports fans and players swelter through another summer season, questions of stadium design to deal with extreme heat are becoming more urgent.
Monday - The world's largest lithium ion battery has brought much needed flexibility to the South Australian grid, encouraging other Australian states to follow suit.
Monday - Taiyuan, capital of Shanxi province in China, replaced 8000 petrol-powered taxis with electric vehicles in a single year.
15 Dec 17 - Antarctic ice sheet models double the sea-level rise expected this century if global emissions of heat-trapping pollution remain high, according to a new study.
15 Dec 17 - Poland is in no hurry to ditch coal power any time soon but the new prime minister insists nuclear energy and renewable sources are a part of the country's future energy mix.
15 Dec 17 - A European development bank has partnered with city mayors from all over the world to mobilise more than $1.5 billion in urban investment to help combat climate change.
15 Dec 17 - Donald Trump's climate adviser George David Banks cut an intriguing, divisive figure at the recent climate talks in Bonn.
15 Dec 17 - Southeast Asia's leading solar energy nation -Thailand - could be the frontrunner in wind energy after renewables developer WEH secured funding for the region's biggest wind power project.
14 Dec 17 - The Earth cannot accommodate our need and greed for food. We must change our diet before it's too late, says George Monbiot.
14 Dec 17 - One of the world's biggest financial services companies is both dumping investments and ending insurance for controversial US oil pipelines.
14 Dec 17 - Germany is the leading nation for recycling, followed closely by Wales and Singapore, according to new research.
14 Dec 17 - A war on waste food in France has helped it secure the top spot in a ranking of countries by their food sustainability.
---