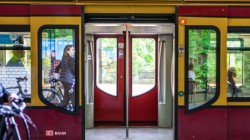 Friday - Germany is thinking of making public transport free as it scrambles to meet EU air pollution targets and avoid big fines.
Friday - The Antarctic, one of the last great wildernesses and home to animals such as whales, penguins and leopard seals, is being threatened by the plight of an animal just a few centimetres long.

Friday - Australia's love affair with clean energy and battery storage is only just beginning, with the nation on the verge of an energy storage boom.
Friday - Microplastics have been found in some of the most remote and uncharted regions of the oceans raising more concerns over the global scale of plastic pollution.

Friday - Three new studies of how the world works show that seabird excrement plays an unexpected role, as do polar algae and rotting trees.

Thursday - European energy producers are calling for mandatory disclosure to customers of information about where their electricity comes from.
Thursday - Iceland is the first nation to use more electricity on mining cryptocurriencies than on its households – thanks in part to its magma-fuelled power plants.
---
Thursday - China will be the first major country in which solar energy gives fossil fuels a run for its money, says Lloyds Register.
Thursday - Climate change-induced wildfires are now the biggest source of carbon emissions in Amazon forests.
Thursday - The coalition agreement between the German Conservatives and the Social Democrats outlines a relatively ambitious energy policy.
Thursday - The Queen has banned plastic straws and bottles from being used across the various Royal homes and palaces.
Wednesday - A UN draft report says missing the 1.5deg warming target will multiply hunger, migration and conflict, but staying under will require unprecedented global cooperation.
Wednesday - The annual debate over whether China has peaked its greenhouse gas emissions faces a watershed moment.
Wednesday - The surplus electricity from solar and wind power gives hydrogen the chance to replace oil and gas.
Wednesday - The US Environmental Protection Agency's enforcement activity against polluters has fallen to its lowest level in a decade.
Wednesday - A type of super-strong wood, which could replace the use of steel in manufacturing, has been developed by US researchers.
Wednesday - Delivering parcels by drone could help to cut carbon emissions.
13 Feb 18 - The lack of women in energy companies is holding back the sector's efforts to tackle climate change, a leading industry watcher has warned.
13 Feb 18 - Paris could become the first city in Europe to try to defray the cost of climate change by taking fossil fuel companies to court.
---