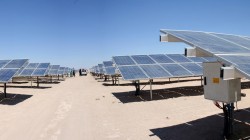 Wednesday - In its biggest project to date, the UN's flagship climate finance scheme is putting $150m toward developing wind, hydro and solar power in Egypt.

Tuesday - Countries could cut global carbon emissions in half by 2040 and stay well below the 2deg warming mark agreed to in the Paris Agreement, says a new report.

18 Aug 17 - Al Gore's new film An Inconvenient Sequel: Truth to Power is different from his first film – it is much more biographical and focuses on how Gore became the great climate change communicator.

16 Aug 17 - Countries need to start negotiating who will take responsibility for removing carbon dioxide from the atmosphere.

15 Aug 17 - The world's first wireless fridge camera goes on sale in the UK next month aimed at helping households to slash food waste by being able to check exactly what they have in their refrigerator at any time.

11 Aug 17 - It is "extremely unlikely" 2014, 2015 and 2016 would have been the warmest consecutive years on record without the influence of human-caused climate change, according to a new study.

11 Aug 17 - Monsanto continued to produce and sell toxic industrial chemicals known as PCBs for eight years after learning that they posed hazards to public health and the environment, archives reveal.
---
11 Aug 17 - By 2050, heat waves, floods and other climate change effects won't be the only worry. There's also the evidence that warming affects diet.
9 Aug 17 - A wildfire in western Greenland has burned roughly 3000 acres and promptied hunting and hiking closures in the area.
4 Aug 17 - Two current global trends are set to make life rather uncomfortable for cities: climate change and the unprecedented rate of urbanisation.
4 Aug 17 - People around the world consider climate change to be a top security threat—and in some cases the biggest threat, according to a new survey.
2 Aug 17 - Today, August 2, is Earth Overshoot Day, the day on which our demands on nature for the year exceed what the planet can generate in a year. But when would Earth Overshoot Day be if everyone lived...
2 Aug 17 - Climate change will have a big impact on the global economy as nations seek to adapt to a warmer world and adopt policies to keep global warming below 2deg.
2 Aug 17 - A new poll shows the view that climate change is mostly a left-wing concern is prevalent and problematic. It's time to change the conversation.
1 Aug 17 - The planet has only a 5 per cent chance that it will avoid warming by at least 2deg come the end of the century.
1 Aug 17 - Average global surface temperatures so far this year are 0.94°C above the 1950–1980 average, making 2017 the second-hottest first six calendar months on record.
1 Aug 17 - Ships are huge and loud, yet they seem to take whales by surprise.
31 Jul 17 - With the sequel to his blockbuster documentary An Inconvenient Truth to be released next month, Al Gore talks about his role at the forefront of the fight against climate change.
28 Jul 17 - There's no shortage of good intentions in Ireland's climate plan, but they are too vague to cut emissions significantly.
---