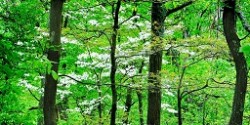 Friday - Scientists have long been aware of a forest's ability to absorb carbon, but a new US study has discovered trees that emit methane.

Thursday - Much of the public and scientific discussion around a slowdown, or hiatus, in the rate of global warming has been misguided, says prominent climatologist.

21 Apr 17 - Chalk up another climate milestone … atmospheric carbon dioxide concentrations hit 410 parts-per-million this week, the highest they've been in more than 15 million years.

20 Apr 17 - Harvard scientists later this year will redirect the sun's rays back into space as part of a larger research programme aimed at understanding the benefits and risks of geoengineering the planet to have a cooler climate.

20 Apr 17 - The Harvard scientist who pioneered a "bionic leaf" that could generate the production of fuel has taken artificial photosynthesis a step further.

19 Apr 17 - Luke Skywalker's family farmed moisture from the atmosphere using devices called "vaporators". In the planet's hot and dry desert landscape, moisture farming was an important activity for survival.

13 Apr 17 - Permafrost, the layer of permanently frozen ground that lies just beneath the Earth's surface in the polar regions, has been found to be more sensitive to the effects of global warming than climatology had recognised.
---
11 Apr 17 - European and US scientists have worked out how the Northern hemisphere keeps cool − so be grateful for the trees, and especially for the forests.
10 Apr 17 - The warming of the atmosphere by greenhouse gases is slowing the jet streams which drive the northern hemisphere's weather.
6 Apr 17 - Four years of current emissions would be enough to blow what's left of the carbon budget for a good chance of keeping global temperature rise to 1.5deg.
6 Apr 17 - Unabated fossil fuel use has the potential to push the Earth's climate into a state not seen in at least half a billion years, according to a study published in Nature Communications.
4 Apr 17 - Researchers from Ohio State University have found a way to recycle food waste, specifically eggshells and tomato skin, into car tyres, replacing carbon black, a petroleum-based filler used in...
3 Apr 17 - Nominations for this year's Green Ribbon Awards are open.
31 Mar 17 - Far below the Dead Sea, between Israel, Jordan and Palestinian territory, researchers have found evidence of a drought that has no precedent in human experience.
30 Mar 17 - Climate scientists puzzled by the traffic of carbon between soil and air might have to think more deeply about the role played by soil microbes − the planet's smallest inhabitants.
29 Mar 17 - The development and evolution of the chemical industry is directly responsible for many of the technological advancements that have emerged since the late 19th century.
28 Mar 17 - US scientists are set to send aerosol injections 20km up into the earth's stratosphere in the world's biggest solar geoengineering programme to date, to study the potential of a future tech-fix for...
27 Mar 17 - The future for China is likely to become increasingly unclear – and lurking behind the obscured outlook in the nation's capital is the spectre of climate change.
27 Mar 17 - Scientists in the US have proved it yet again that, in a rapidly warming world, mammals face a diminished future.
---