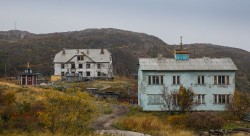 Monday - Frozen ground in the Arctic is thawing, harming indigenous people's hunting livelihoods and destabilising buildings and roads across the rapidly warming region.

6 Jul 20 - Jules Verne sent his fictional submarine, the Nautilus, to the South Pole through a hidden ocean beneath a thick ice cap. Written 40 years before any explorer had reached the pole, his story was nevertheless only half fiction.

1 Jul 20 - Beavers are creating lakes that accelerate the thawing of frozen soils and potentially increase greenhouse gas emissions, a study finds.

29 Jun 20 - Some of most ecologically sensitive lands in the National Petroleum Reserve-Alaska, a few hundred miles west of the Arctic National Wildlife Refuge, might soon be open for business to the oil industry.

19 Jun 20 - An unusual combination of events has caused the Weddell Sea to lose more sea ice than in recent years.

2 Jun 20 - The bitterly cold Arctic winter typically snuffs out the seasonal wildfires that erupt in this region. But every once in a while, a wildfire comes along that refuses to die.

21 May 20 - Warming temperatures in Antarctica are helping the formation and spread of "green snow" that in places can be seen from space.
---
19 May 20 - Covid-19 is just one of many setbacks for hundreds of scientists pursuing critical climate questions in the world's most remote and inhospitable environment.
13 May 20 - British and German scientists have identified "sickening" levels of plastic waste in the Southern Ocean that washes around Antarctica.
30 Apr 20 - Within 30 years, there could be clear blue water over the North Pole – not good news for most of the planet.
16 Apr 20 - The Greenland ice sheet melted at a near-record rate in 2019, and much faster than the average of previous decades, scientists have revealed.
7 Apr 20 - The Arctic is predicted to warm faster than anywhere else in the world this century, perhaps by as much as 7deg.
27 Mar 20 - East Antarctic's Denman Canyon is the deepest land gorge on Earth, reaching 3500m below sea level. It's also filled top to bottom with ice which has a significant vulnerability to melting.
20 Mar 20 - Greenland lost 600 billion tonnes of ice last summer due to an exceptionally warm season, according to a new study.
21 Feb 20 - Sea levels might threaten coastal cities sooner than expected, scientists say, as ice loss speeds up and Antarctic temperatures rise.
14 Feb 20 - Mass melting of the West Antarctic ice sheet, driven by warmer ocean temperatures, was a major cause of extreme sea level rise more than 100,000 years ago, according to new research.
10 Feb 20 - Antarctica has logged its hottest temperature on record, with an Argentinian research station thermometer reading 18.3deg, beating the previous record by 0.8deg.
31 Jan 20 - It would be a monumental task to start rewilding the Arctic, but the climate payoff could be mammoth.
14 Nov 19 - Along with warmer water eating away at Antarctic ice shelves from below, atmospheric rivers are causing trouble from above.
---