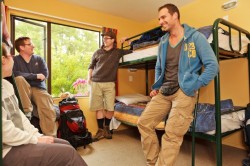 24 Nov 16 - YHA New Zealand is the first accommodation network in the world be certified by CarboNZero.

24 Nov 16 - Sharp Corporation's efforts to responsibly manage the environmental effects of its products have been recognised with accreditation to the Product Stewardship Scheme, Environment Minister Dr Nick Smith says.
10 Oct 16 - The Sustainable Business Network has won the Sustainability Support category in AUT's Excellence in Business Support Awards.

22 Sep 16 - Makers of a children's sunscreen marketed as "organic" have been warned by the Commerce Commission following a complaint from Consumer NZ.

12 Aug 16 - Kiwi clothing designer Karen Walker has certified that none of its garments are made using child labour.
8 Jun 16 - Supreme winners from the 11 regions participating in the 2016 Ballance Farm Environment Awards will be honoured at New Zealand Farm Environment Trust's National Sustainability Showcase this month.
7 Jun 16 - Canon New Zealand's 2016 Environmental Grants Programme is open.
---
16 May 16 - New Zealand's first Tesla Energy Powerwall battery has been switched on at a South Auckland primary school.
28 Apr 16 - A specialist pork and beef producer has won a nationwide competition to have some of the country's top experts help to promote the business.
7 Apr 16 - Ranui Sustainable, a Whangarei-based business incubator with the mission to make Northland the most sustainable region in the Southern Hemisphere by 2025, is launching a Kiwi Innovators programme to...
1 Apr 16 - Wellington's sunny weather has attracted a nationwide solar power company to launch the first installation in New Zealand of a new technology residential storage battery, charged by solar power at a...
31 Mar 16 - The debut Organic Wine Awards Sustainable Vineyard of the Year title has been awarded to Kaimira Estate.
31 Mar 16 - Will and Rose Parsons have long known that good environmental practice is good business practice, too.
10 Mar 16 - Moulded-fibre manufacturer Huhtamaki plans to cut energy consumption by 5 per cent a year, reducing annual carbon emissions by 417 tonnes.
29 Feb 16 - Auckland water company Watercare says that by 2025, its two biggest wastewater treatment plants will be powered entirely from biogas produced from the city's sewage.
26 Feb 16 - Concrete-block manufacturer Interbloc has been recognised for its efforts to manage the environmental effects of its products – and received $430,000 of Government money to expand its recycling...
15 Feb 16 - New Zealand Post is making a significant investment in its parcel and mail business with the addition of new Paxster electric delivery vehicles to its fleet.
15 Feb 16 - Panasonic New Zealand has launched its first lithium-ion home storage battery - a system that can sense and store excess clean solar energy to power the household in the evening once the solar system...
15 Feb 16 - Harrisons Energy Solutions has announced an exclusive distribution partnership that brings one its solar panel optimisers to New Zealand households.
---