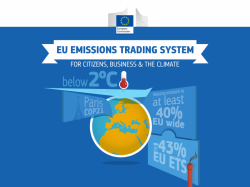 Friday - EU carbon allowance prices hit an all-time high of over Eur47/mt April 22 as bullish mood continued in the market in the wake of the EU's informal agreement on a revamped 2030 emissions reduction goal.

Thursday - The European Commission is proposing an overhaul of the union's corporate sustainability reporting and disclosure framework.
Wednesday - Cities in the Netherlands want to make their air cleaner by banning fossil fuel delivery vehicles from urban areas from 2025.

15 Apr 21 - Europe is building or planning to build €87 billion worth of fossil gas infrastructure in a continued expansion of pipelines and LNG terminals, despite the need to halve emissions by 2030.

15 Apr 21 - In Amsterdam, a group of forward-thinking people decided to go with the flow. Schoonschip, a self-sustaining floating community of more than 100 residents, boasts innovative technology like 500 solar panels and a green roof on every house.

13 Apr 21 - France is offering the owners of old, exhaust-belching cars the opportunity to hand over their vehicles for scrap in return for a 2,500 euro grant to buy an electric bicycle.

12 Apr 21 - A fight over Greenland's rich oil, gas and mineral deposits is raging, as global warming melts ice and exposes rich reserves. Now Greenlanders are struggling to balance economic growth and environmental protection.
---
8 Apr 21 - The latest vehicle sales data for France tell an interesting story about the future of the auto sector in Europe.
31 Mar 21 - The fifth round of negotiations between the European Union Council and members of parliament achieved little progress on agreeing a climate law.
31 Mar 21 - Experts tasked with assessing whether the European Union should label nuclear power as a green investment will say that the fuel qualifies as sustainable, according to a leaked document.
24 Mar 21 - Sweden plans to charge airlines more at takeoff and landing if their aircrafts are more polluting, the government has said.
22 Mar 21 - More than 90 energy companies, equipment manufacturers and gas network operators have called on the European Commission to consider hydrogen blending into natural gas for parts of Europe that cannot...
18 Mar 21 - Like other European countries, the Czech Republic's buildings are in need of renovation. Unlike others, it partly funds renovation programmes with revenues generated from the emission trading scheme,...
17 Mar 21 - France's National Assembly has voted to enshrine the fight against climate change and the protection of biodiversity in the constitution, the first step towards a national referendum on the matter.
16 Mar 21 - The series of severe droughts and heatwaves in Europe since 2014 is the most extreme for more than 2000 years, research suggests.
15 Mar 21 - The European Parliament has rejected proposals to phase out free carbon dioxide pollution credits for industries covered by the EU's Emissions Trading System, even as the bloc plans to gradually...
10 Mar 21 - Europe's future carbon border adjustment mechanism is part of the "new own resources" for the EU budget and must be used to combat global warming across the world, says MEP leading the project.
8 Mar 21 - Lawmakers have denounced a "loophole" in the European Commission's proposed climate target for 2030 and pointed the finger at the EU executive for its hard negotiation style over the EU climate law.
2 Mar 21 - European banks should publish a "green-asset ratio" as a core measure of their climate-friendly business activities, says the European Union's banking watchdog.
---