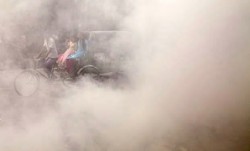 Tuesday - Pollution kills at least nine million people and costs trillions of dollars every year, according to the most comprehensive global analysis to date, which warns the crisis "threatens the continuing survival of human societies".

Tuesday - Messing with the Sunday roast proably is a step too far for many people. So how might we create a more sustainable Sunday roast?

Friday - A judge has dismissed a Canadian logging company's lawsuit against Greenpeace and another activist group that accused them of running a criminal enterprise through their environmental campaigns.

Friday - Despite efforts to end food shortages, hunger is on the rise again after years of decline, a UN report says.
Friday - The contamination of drinking water by toxic firefighting chemicals is the most seminal public health challenge of coming decades, says a US environmental official.
Thursday - Planting forests and other activities that harness the power of nature could play a major role in limiting global warming under the 2015 Paris agreement.

Thursday - What if every time you sat down for a meal, you threw one-quarter of it in the trash? That's the hidden story of waste in the hospitality industry.
---
Thursday - Potatoes and bananas reborn as insulation, peanuts processed into partition boards and mushroom bricks that grow in five days ... just some of the ways the building trade could change its wasteful...
Thursday - Volcanic eruptions and climate change have been linked to periods of social unrest and the eventual downfall one of Ancient Egypt's most famous dynasties.
18 Oct 17 - Speaking on World Food Day, Francis said climate change was a driver of hunger and migration and the Paris climate agreement was the legal basis for the solution.
17 Oct 17 - Today, one out of six people on Earth live in Africa. These same projections predict that the proportion will be one in four in 2050 and more than one in three by 2100.
12 Oct 17 - The International Monetary Fund has warned the world's richest nations to have a greater sense of urgency about climate change.
10 Oct 17 - When asked about major threats to their country, Europeans are more likely than Americans to cite global climate change.
10 Oct 17 - The bakery that tried to list 'love' as a granola ingredient might not have got away with it, but elsewhere dubious and confusing labelling is rife – and it is ruining our diets.
6 Oct 17 - More than 90 per cent of the excess heat trapped by greenhouse gas emissions has been absorbed into the oceans.
5 Oct 17 - Forty Roman Catholic groups have announced they will shun investments in fossil fuels and have urged others to follow suit.
4 Oct 17 - Ireland has failed spectacularly in its response to the challenges posed by climate change over the last 15 years, the Citizens' Assembly has been told.
3 Oct 17 - Coca-Cola increased its production of throwaway plastic bottles last year by well over a billion, according to analysis by Greenpeace.
2 Oct 17 - Corporations globally have made hundreds of commitments on deforestation. But what do these pledges really mean and why do scandals keep happening?
---